Photo by Monivette Cordeiro
Since the assassination of Dr. Martin Luther King Jr. in 1968, his stances as a radical activist has been obscured by the image of a whitewashed hero who only has a cherry-picked message of peace and tolerance. It's the only way we can explain why Donald Trump, a presidential candidate who has insulted
Muslims
,
Mexicans
and
pretty much everyone else
, was chosen by
Liberty University
to honor Dr. King.
"Instead, what we too often get is King positioned in holiday specials and commemorations as some kind of racial Santa Claus, and his birthday presented as the one day on our calendar designated for us to indulge in this kind of blind hope for racial justice," writes Jamil Smith for
New Republic
. "...All the while, Republicans tweet out flowery statements on MLK Day and even insist that King was one of them, ignoring that the GOP is a different party today than it was then and that King would likely oppose their policies fervently. It's nearly as annoying to see white politicians on the left proclaim their allegiance to King—and sometimes, their presence at one of his marches—as a substitute for substantive racial justice platforms."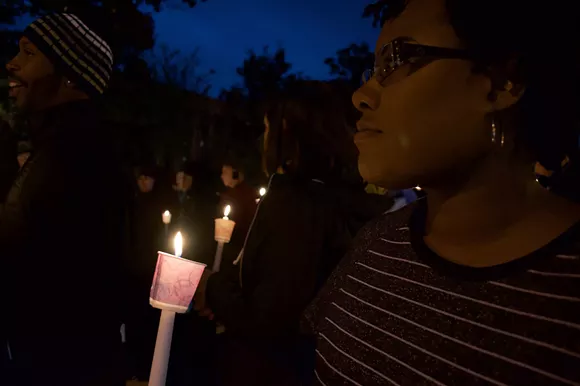 Photo by Monivette Cordeiro
Orlando's Black Lives Matter activists joined other cities across the country Monday in an effort to
#ReclaimMLK
and continue his legacy of racial justice, says Ida Eskamani of Organize Now.
"The Rev. Dr. King was not simply a dreamer, a martyr or a preacher," Eskamani told the crowd. "He was a revolutionary black activist...We're here tonight to mourn the lives lost to systematic black oppression, to honor the revolutionary legacy of Dr. King and to continue the fight forward for the Black Lives Matter movement."
At Orlando's candlelight vigil in front of the Orlando Police Department in downtown, activists told their stories, sang "We Shall Overcome" and read the last words of police brutality victims Sandra Bland and Eric Garner. Elliana Dix, president of the University of Central Florida chapter of the Dream Defenders, repeated Garner's final plea of "I can't breathe," to the group. She says the
Black Student Union sit-in
that happened on UCF's campus in December made a lot of students think about racial injustice. She and three other members are trying to revive the Dream Defenders movement at UCF.
"Because we do not have a prominent human rights or civil rights organization on campus, discrimination isn't talked about," Dix says. "UCF is a diverse campus, but it's not necessarily an inclusive campus. I'm not seeing myself represented in the student union or seeing enough black and brown faculty."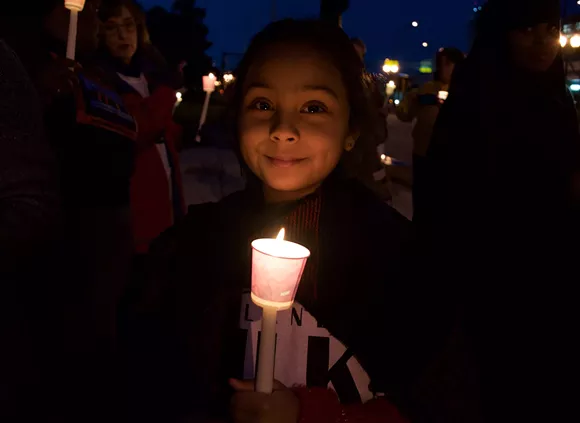 Photo by Monivette Cordeiro
Local activist Vince Taylor told the crowd not to forget the community behind Dr. King that brought him to town and forced him to act.
"Dr. King not only gave us the dream, but he gave us the hope we needed to put that dream into reality," Taylor says. "Look around you right now. I'm at a Black Lives Matter march and there's the least amount of black people here. If that ain't Dr. King's dream, I don't know what is."