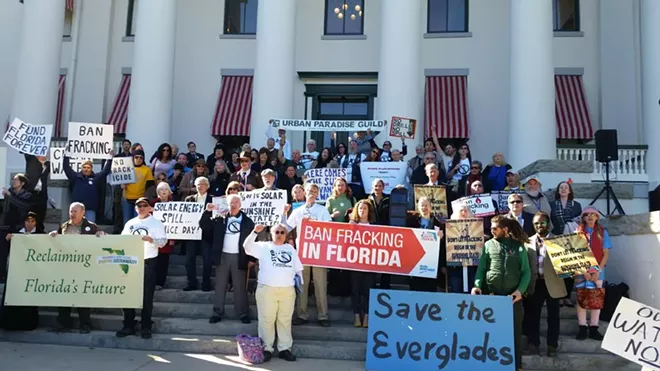 via Frack Action on Twitter
Yesterday activists from across the state descended on Tallahassee to ask legislators to protect Florida from fracking. The Legislature, as you may recall, is set to consider bills this session that would actually ban local governments from restricting or banning fracking within their borders. Just last month, the Orange County Board of County Commissioners voted to
oppose fracking
in Orange County, but if the Legislature's bills passed, no county would be able to exercise home rule over fracking interests.
As the
Guardian reported
two days ago, environmentalists are concerned about the impact fracking could have on Florida's fragile aquifer, which is protected by little more than porous limestone. Should fracking chemicals penetrate the limestone and seep into the aquifer, they could poison the only source of fresh water for millions of Floridians.
Those concerns haven't stopped oil companies from expressing interest in mineral resources beneath Florida, though. Just today, the
Star
newspaper in Port St. Joe reported that the state Department of Environmental Protection
issued permits
to a Texas-based company to perform seismic testing for oil and gas in Gulf and Calhoun counties. Some point out that the testing could be to set the stage for fracking at a later date.