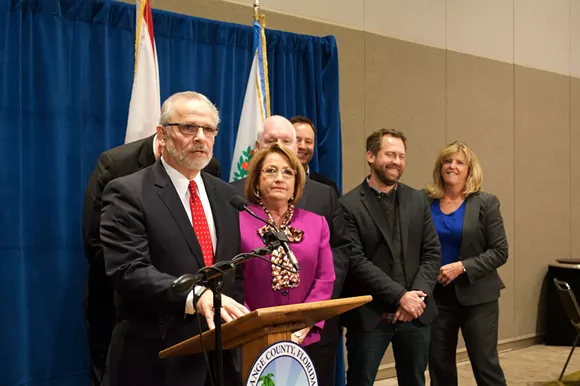 Photo by Monivette Cordeiro
At the 2016 Orange County Economic Summit, the financial picture painted is not as bright as last year, but strong enough to weather the next economic downturn.
Central Florida is in better shape because it has diversified its economy from hospitality to technology and health care, says Sean Snaith, director of the University of Central Florida's Institute for Economic Competitiveness. Canada and Brazil, two countries that contribute heavily to the amount of tourists, are going through financial recession, with Brazilian real depreciating against the U.S. dollar.
If there is a second, weaker recession in the coming years, Orlando will come out of it standing up. Job growth in the region is slightly stronger than the state, with Florida at 2.3 percent and Orlando at 2.9 percent, Snaith says.
Rick Weddle, president of the Orlando Economic Development Commission, says by 2020, net migration into the area will be 350,000 people, making Orlando the second-fastest growing metropolitan area in the country. However, Orange County continues to lag in new patents, venture capital, college graduates and STEM jobs.
"There's no single factor more important in economic development projects than our talent pipeline, so we have to invest in those areas," Weddle says. "We have to have a regional investment strategy, grow our technology capacity and grow our talent pipeline...This region is rich in human and material resources...Despite the drag in the word economy, we are well-positioned to see way better than average growth and opportunity."
However, missing from this economic conversation is the fact that Orlando ranks
dead last
among the top 50 American metropolitan areas in terms of a median wage. Weddle says rapidly growing economies usually have more job creation in lower-paying areas.
"We don't have the job mix we'd like to have," he says. "What we're about is trying to change that mix over time. While we continue to work on that, all of those people working in lower-paid jobs are getting great work experience and opportunity experience, they become the human capital for companies that come in and pay higher wages, so the cycle works."
Orange County Mayor Teresa Jacobs told business leaders gathered at the Economic Summit that the county is focused on creating a business environment that supports a full spectrum, from small businesses to tech startups that include modeling and simulation and life-science advancements.
"There's no question that we are poised to seize the future," Jacobs says. "In just a few short years, we've changed not only how the world sees us, but how we see ourselves."