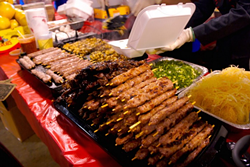 Photo courtesy Tasty Chomps
We're still a couple of weeks out, but it's high time you started planning your culinary sojourn around the Central Florida Fairgrounds to celebrate the Year of the Monkey.
Lunar New Year celebrations start the last weekend in January and continue through President's Day Weekend, and even though the two weekend events at the fairgrounds are free (
Jan. 30-31 is sponsored by St. Philip Phan Van Minh Catholic Church
, and the second weekend,
Feb. 6-7, is sponsored by the local Vietnamese community
), you're going to want to pad your pockets with cash so you can take a proper tasting tour of all the delicious things on offer.
We spoke to
Tasty Chomps food blog
founder Ricky Ly about his favorite things to eat at the festival, which he describes as a "Vietnamese street food fair ... without the carnies":
1. Sugarcane juice: "They smash up the fresh sugarcane and then add a little tangerine juice! It's so good."
2. Hop vit lon (aka balut): "Fertilized, unhatched duck eggs. Definitely only for the adventurous."
3. Nem nuong: "I really enjoy these pickled sausage meatballs on a stick. You can't get them the rest of the year."
Some other things you'll find at the fairgrounds:
4. Summer Roll - Gỏi Cuốn
5. Egg Roll - Chả Giò
6. Beef Noodles Soup - Phở
7. Huế Spicy Beef Soup - Bún Bò Huế
8. Grilled Pork on Stick -Thịt nướng
9. Crab Soup Noodle - Bún riêu
10. Vietnamese Rice Noodle with Pork and Shrimp - Hủ tiếu Nam Vang
11. Vietnamese Crepe - Bánh Cuốn
12. Pork Intestine Rice Porridge - Cháo Lòng
13. Grilled Pork with Rice Noodle - Bún thịt nướng
14. Egg Roll with Rice Noodle - Bún chả giò
15. Coffee - Cà phê sửa đá
If you want to join Ricky on a food tour of the festival on Jan. 31 (and get a little history and background about what you're putting in your mouth), he'll be leading a group for a tasting tour starting at 10:30 a.m. at the gates.