THIS LITTLE UNDERGROUND


Jen Cray
Meatwound at Will's Pub
Rising new Tampa murderers
Meatwound
were the band I was most pumped to see on this bill (Jan. 22, Will's Pub) but I've written tons about them since getting demolished by them last year – like
this
and
this
– and don't have much new to say about them so soon. Same goes for Miami headliner
Torche.
But the sheer blunt force of the former and the rocketing thrill of the latter are still beautiful things that never get old.
Jen Cray
Torche at Will's Pub
Jen Cray
Torche at Will's Pub
Baltimore's
Jeff Carey,
however, was an especially curious act. Like
Author and Punisher's
little gamer brother, he rips
extreme digital noise
with a weird-ass rig commanded by pads, boards and a joystick. At least a few nerds probably just wet their pants right now.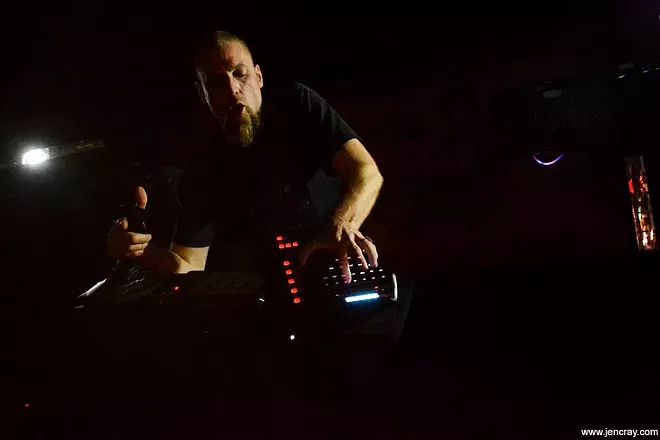 Jen Cray
Jeff Carey at Will's Pub
It's the sonic manifestation of cyborg warfare. Add a severe lighting array of all-white strobes and LEDs and this crazy shit becomes a
full-sensory assault.
Seriously, it's insane. More visceral than musical, it's not gonna shake any butts, but it's a pretty undeniable live experience.
////////////////////////////////////////////////////////////////////////////////////////////
This Little Underground
is Orlando Weekly's music column providing perspective, live reviews and news on the city's music scene.

Follow Bao on Twitter (@baolehuu)
Email Bao: baolehuu@orlandoweekly.com