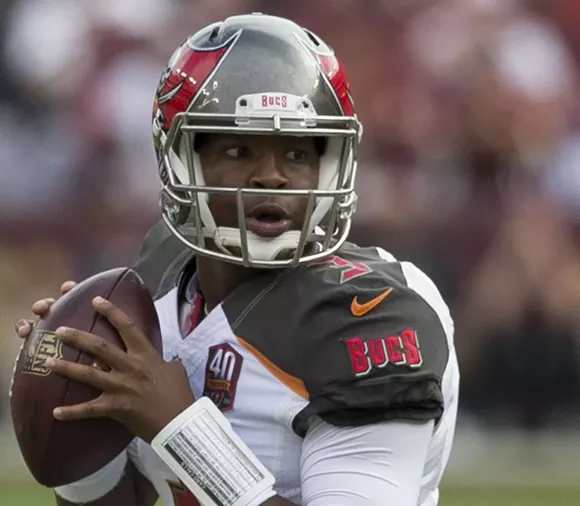 Florida State University has agreed to pay $950,000 in a federal Title IX lawsuit to settle with a former student who says she was sexually assaulted in 2012 by FSU quarterback Jameis Winston.
In exchange for agreeing to drop the lawsuit, the student will receive $250,000, and her lawyers will get $700,00 in attorney fees, according to a press release from
FSU
. The
Tampa Bay Times
reports the payment is "believed to be the largest ever to one plaintiff in a Title IX sexual assault case."
The student says FSU did not respond to her allegations that Winston, currently the starting quarterback for the Tampa Bay Buccaneers, raped her. After Winston, who has denied the allegations and maintained the two had consensual sex, was not charged in an FSU disciplinary hearing or a State Attorney's Office investigation, the student sued.
In his
statement
, FSU president John Thrasher outlines ways the school has improved its response to sexual assaults and says settling with the student helped FSU avoid "millions of dollars in additional litigation expense."
"Although we regret we will never be able to tell our full story in court, it is apparent that a trial many months from now would have left FSU fighting over the past rather than looking toward its very bright future," Thrasher says. "We have decided to instead move forward even though we have full faith that the ultimate outcome of a trial would have been consistent with the previous law enforcement investigations and retired Supreme Court Justice Major Harding's findings in the student conduct hearing...We have an obligation to our students, their parents and Florida taxpayers to deal with this case, as we do all litigation, in a financially responsible manner. With all the economic demands we face, at some point it doesn't make sense to continue even though we are convinced we would have prevailed."
The
Times
reports the U.S. Department of Education has been independently investigating FSU since 2014. The student filed a civil lawsuit against Winston and has been countersued by the football player for defamation.