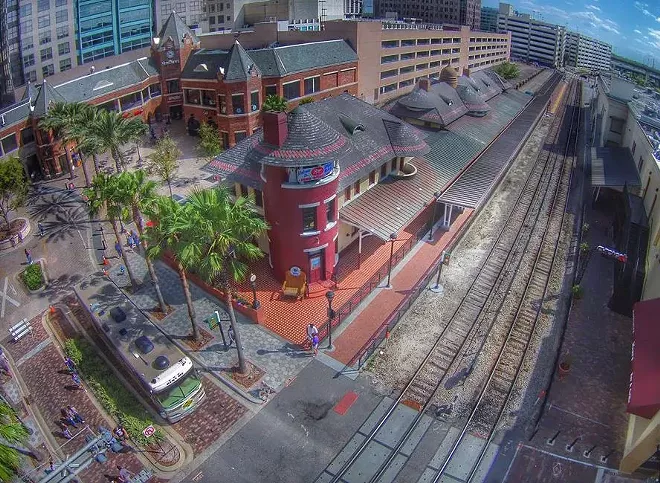 image via Ferg's Depot on Facebook
After our tour through the renovations in process at Ferg's Depot last July as part of the
Downtown Orlando Partnership's Food Tours
, we were blown away by the beauty inside the historic building ... but as projected opening date after date passed by, we started to lose hope that we'd ever be able to stroll over for a happy-hour beer.
image via Ferg's Depot on Facebook
Well, the moment has come at last – Ferg's Depot opens with a VIP preview event tonight, and a
grand public opening
tomorrow.
Ferg's is housed in the original 1889 Church Street Station train depot and, as is often the case with historic buildings, there were plenty of restrictions on what could and couldn't be done to the property. (One of the most creative solutions we witnessed on that tour was how they'd housed the kitchen, freezer, and beer storage in shipping containers along the side of the tracks.)
Even back then, though, it was apparent that they have gone above and beyond with the decor of the place – check out this Victoriana/motopunk fireplace, and this whole vintage suitcase situation.
image via Ferg's Depot on Facebook
The original Ferg's in St. Petersburg is a pretty casual sports bar (housed in an old Sunoco gas station), but Ferg's Depot will be more upscale, with a main restaurant dining room, two additional bar rooms, alfresco seating along the platforms and an outdoor oyster/raw bar.
The grand opening celebration kicks off 5 p.m. Friday, Jan. 29 (tomorrow!), with free beer for the first hour, followed by a ribbon cutting at 6 p.m. with Orlando Mayor Buddy Dyer.
image via Ferg's Depot on Facebook