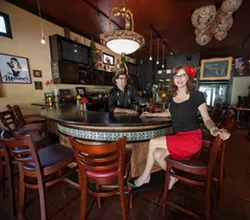 Photo courtesy Maxine's on Shine via Facebook
The "little restaurant that could" is
celebrating four years
of epic brunches and live music with ... well, exactly that and so much more.
Starting tonight at 5 p.m., the restaurant will be featuring plenty of specials from behind the bar and in the kitchen, as well as a lineup of local musicians. Here's what's on deck:
Friday 1/29 - Drew Yardis, 7-10pm
Saturday 1/30 Brunch - Tim Turner, 11am-2pm
Saturday 1/30 - Joseph Martens, 7-10pm
Sunday 1/31 Brunch - Robert Johnson, 11am-2pm
Sunday 1/31 Opening set - Circa, 7pm
Soul Celebration by Eugene Snowden & Friends, 8:30pm
The weather this weekend is looking to be pretty gorgeous, pairing perfectly with a wine-lover's cheese board or a grand plate of steak and eggs to celebrate. What's more party-perfect than a mid-rare steak, anyway?
Make reservations on the
Maxine's on Shine website
or call 407-674-6841 and plan to snag a seat, order a couple of super-sized Bloody Marys and enjoy the tunes.