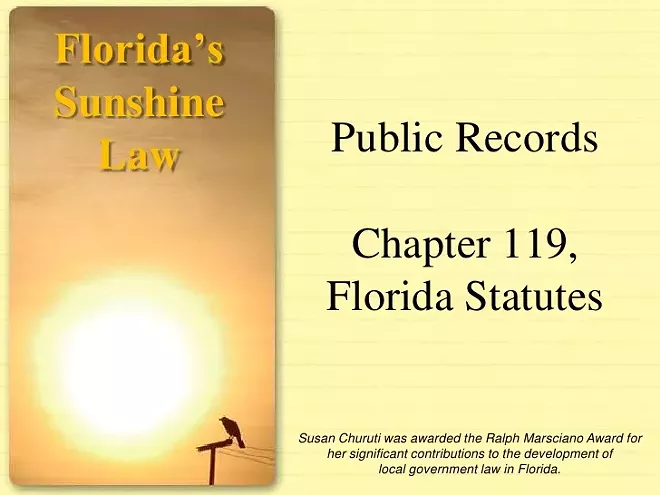 Another gem from the 2016 state legislative session, which is fast becoming the most unDemocratic session we've witnessed in Tallahassee in years (see: proposal to make legal abortion a felony
here,
proposal to make open the door to fracking
here
and proposal to prevent counties from banning polystyrene products
here
): The state is now considering bills that would undermine transparency in government.
The bills –
HB 1021
and and
SB 1220
– would
change the language
of the state's current public records law so that judges can decide whether or not to award attorney's fees to organizations that win lawsuits to obtain access to public records. Current state law says that when somebody – a media organization, a watchdog organization or even an individual – tries to obtain public records and a government agency refuses, the requester has two remedies: to ask an attorney to bring criminal charges or to take the government agency to court. If the requester wins the suit, current law states that the requester "shall" be awarded attorney's fees and court costs. These bills would change that language to say that a judge "may" award those fees.
This is a big deal because if this bill passes, judges also may not decide to award attorney's fees. Even if people win their suits. Most people who file legitimate public records requests – requests for documents that you have a right to review, as a citizen, by the way – don't have enough money to take a chance on whether they'll be forced to take a contested request to court. So, more than likely, anyone who isn't wealthy enough to take a chance that they could have to pay their own way, should a judge arbitrarily decide not to award them the fees they've accumulated through the court process, won't go the distance with these suits. Which means fewer suits are likely to be filed, and less information will be filtered out to the public. Can you say chilling effect?
The Association of Alternative Newsmedia (a trade industry that we belong to) recently
posted its response
to these bills. It has joined Reporters Committee for Freedom of the Press, the Associated Press, the Society for Professional Journalists and other organizations in urging Florida lawmakers to reject both bills.
Read the letter
the organizations sent to legislative leadership on Jan. 28. You can read the statement from the Association of Alternative Newsweeklies
here.