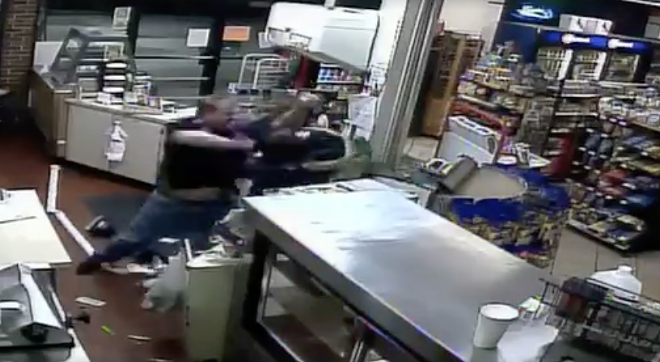 Brevard County Sheriff's department recently released a surveillance video showing a gas station clerk disarming a robbery suspect by repeatedly punching him in the face, proving that a good guy with strong right hook can also stop a bad guy with a gun.
The video, which was posted to Brevard County Sheriff's
Facebook page
, shows the masked suspect entering the Sugar Creek Gas Station (at 4353 Highway 46, Mims) at approximately 11 p.m. on Jan. 26. The suspect can then be seen pointing a gun at the clerk, who, deputies say is also a military veteran who did multiple tours in Iraq.
As you can see in the video below, what follows is a brief struggle, followed by consecutive punches to the face.
Brevard County Sheriff Wayne Ivey,
who has called for armed citizens to "take on terrorists,"
unsurprisingly says in the post that he doesn't condone citizens taking the law into their own hands if it involves theft, stating "Although I never encourage our citizens to actively engage criminals over money or personal possessions, I bet this criminal thinks twice before taking on a U.S. Veteran again!!!"
After fleeing the gas station, the suspect got into the passenger side of a maroon car, similar to a Lincoln Town Car, with a white top and an unknown license plate. The weapon used in the attempted robbery was later determined to be a black and brown air-soft gun.
Authorities are now looking for the suspect, who is described as a white male between 19- 22-years-old and roughly 5 feet 8 inches tall.
Anyone with information about this incident or the identity of the suspect, is asked to please contact Agent Jon Amick of the Brevard County Sheriff's Office North Precinct General Crimes Unit at 321-264-5210, or CRIMELINE at 1-800-423-TIPS (8477).
I'll BET THIS GUY THINKS TWICE BEFORE TRYING TO ROB A STORE AGAIN On January 26, 2016, at approximately 11 P.M., the Brevard County Sheriff's Office responded to an armed robbery, which occurred at the Sugar Creek Gas Station located at 4353 Highway 46, Mims. Video surveillance inside the store shows the suspect approaching the clerk and brandishing a firearm while demanding money. The suspect handed the clerk a plastic bag to place the money in, at which time a struggle ensued for the weapon. The clerk, a U.S. military veteran who did multiple tours in Iraq saw a chance to disarm the suspect! The suspect received the full attention of this veteran, as he fled the business screaming "please stop and I promise to never be bad again!!" (Okay maybe he didn't say that, but I bet he was thinking it!!) The weapon was subsequently determined to be a black and brown replica revolver style air-soft gun. After fleeing the store the suspect got into the passenger side of a maroon, older model, large style four door car, similar to a Lincoln Town Car, with a white top and an unknown tag. The suspect is described as a white male, approximately 19-22 years old, 5'8" tall, and a medium build. He was last seen wearing blue jeans, a blue jacket with fur lined hood, and purple latex gloves. Also, the suspect was wearing a Chicago White Sox baseball hat, which was left at the scene, and white bandana covering his nose and mouth. Although I never encourage our citizens to actively engage criminals over money or personal possessions, I bet this criminal thinks twice before taking on a U.S. Veteran again!!! Anyone with information about this incident or the identity of the suspect, is asked to please contact Agent Jon Amick of the Brevard County Sheriff's Office North Precinct General Crimes Unit at 321-264-5210, or CRIMELINE at 1-800-423-TIPS (8477), or you can also visit http://crimeline.org/, or text 'crimeline' plus your tip to CRIME (274637). All information to CRIMELINE is confidential and you may be eligible for a reward. Sheriff Wayne Ivey

Posted by Brevard County Sheriff's Office, Florida (Official) on Monday, February 1, 2016