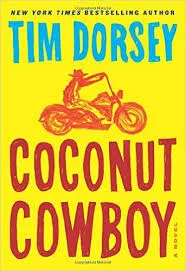 If you're a fan of the literary genre known as "Florida noir" — which is, contrary to the usual noir stereotype, chockablock with cartoony villains and tropical color/flavor — you may already know Tim Dorsey's work. If not, now's a good time to acquaint yourself with his antihero, Serge Storms, in his latest caper,
Coconut Cowboy
. It's Dorsey's 19th novel featuring the unhinged Serge as he stumbles across sleazy politicians, swamp rats and
Itchy and Scratchy
-level slapstick violence.
Dorsey was awarded the John D. MacDonald Award for excellence in Florida fiction in January, joining Elmore Leonard, James W. Hall and Randy Wayne White. He reads from
Coconut Cowboy
twice on Sunday: 4 p.m. at the Orlando Public Library, 101 E Central Ave., and 6 p.m. at the Writer's Block Bookstore, 124 Welbourne Ave., Winter Park.