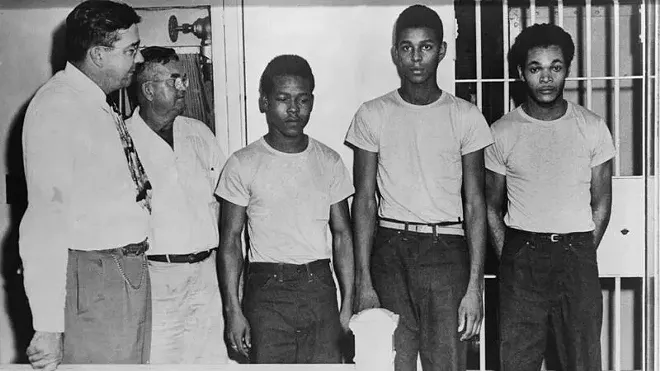 If you haven't heard this specific story before, you're at least familiar with the theme: Four young black men are accused by a white woman of sexually assaulting her. Despite their claims of innocence and their alibis, public sympathy falls with the white woman. One of the four men never even makes it to his arrest – he's tracked down and killed by a posse. The other three are arrested, confessions are beaten out of them and they are convicted by an all-white jury. This isn't a hypothetical story. It's the broad strokes of the true tale of the Groveland Four – Sam Shepherd, Walter Irvin, Charles Greenlee and Ernest Thomas – who were accused in 1949 of raping a Groveland teenager named Norma Padgett.
Thomas was shot before he was arrested, and two of the Groveland Four, Sam Shepherd and Walter Irvin, were shot by a sheriff while they were shackled together. Shepherd died, Irvin survived. The sheriff claimed they were trying to escape. Irvin was convicted to death by an all-white jury who decided his fate in about 90 minutes (Irvin's death sentence was commuted to life in 1955); Greenlee, who was 16 at the time, was sentenced to life in prison. According to the evidence presented at their trial, none of the men were even
in
Groveland the night of the alleged attack.
Greenlee received parole after 12 years, and Irvin was paroled in 1968.
In 2012, FBI records about the case revealed that a medical examination of Padgett revealed that her body showed no signs of assault, and a Pulitzer Prize-winning book that told the story of the Groveland Four, called
Devil in the Grove: Thurgood Marshall, the Groveland Boys and the Dawn of a New America
, gave their case a hefty dose of publicity. The families of Greenlee and Irvin wrote to Gov. Rick Scott, asking him to expunge the records of the two men, both of whom were dead. Scott refused.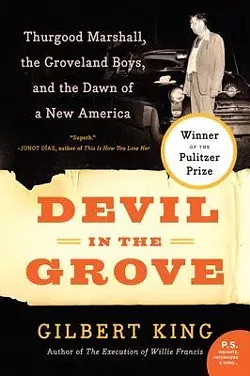 And although it has been more than 65 years since the trial, and the story of the Groveland Four has once again been all but forgotten, a University of Florida student named Josh Venkataraman has made it his mission to draw attention back to the case.
He started a petition on change.org
calling on Scott to pardon the Groveland Four; it currently has 6,329 signatures.
"The Groveland case was swept under the rug by all those involved and the state of Florida; many residents of Florida are not even aware that this happened," Venkataraman's petition reads. "The families of these men lost their sons, brothers, and fathers and we can't bring them back, but we can give them some peace of mind by having these men exonerated for a crime they clearly did not commit. Please help right this wrong by calling on Florida Governor Rick Scott to exonerate the Groveland Four."
Venkataraman says he learned of the case in a history class, and he was stunned by what he learned. He says he's working with the living relatives of Greenlee and Irvin to raise the profile of the story and increase pressure on the state to clear their names, and he's managed to get the Groveland Four story mentioned in the
Chicago Tribune
, the
Miami Herald
, the
Arizona Star
and the
Orlando Sentinel
.
On Feb. 18, Venkataraman says Gilbert King, author of
Devil in the Grove
, will join with the Greenlee and Irvin families to speak at the University of Florida Levin College of Law about the case.
The free discussion
will be held from noon to 2 p.m., and King will participate in a Q&A afterward.
Tonight, King is also making an appearance in Orlando at a fundraiser for the
First Amendment Foundation
, a nonprofit that advocates for more open and transparent government. Recently, the First Amendment Foundation has been speaking out about proposed state legislation that would change the state's public records laws that could make it much more costly – and therefore much less feasible – for residents to take public agencies to court when they refuse to turn over public documents.
Obviously, public records were vital to King when he was doing research for his book – according to a press release about tonight's event, he did extensive research in Lake County and obtained access to FBI documents in order to uncover the story he tells in
Devil in the Grove
.
Tickets to this event
cost $100 per person (and $150 per couple), and the event will be held at the offices of the GrayRobinson Law Firm, located at 301 E. Pine Street. You can RSVP by emailing info@floridafaf.org.