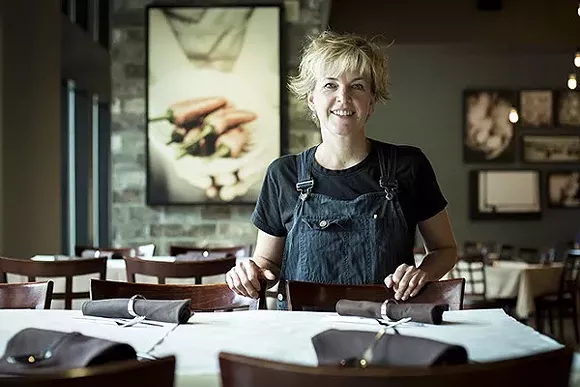 photo by Rob Bartlett
Chef Kathleen Blake at her downtown restaurant, the Rusty Spoon
The list of semifinalists for 2016's James Beard Awards has been announced, and four local chefs from three restaurants made the cut for the "Best Chef: South" nod. Congratulations to
Kathleen Blake
of the Rusty Spoon,
Scott Hunnel
of Victoria & Albert's, and
James and Julie Petrakis
of the Ravenous Pig, who are among the 20 semifinalists in the region.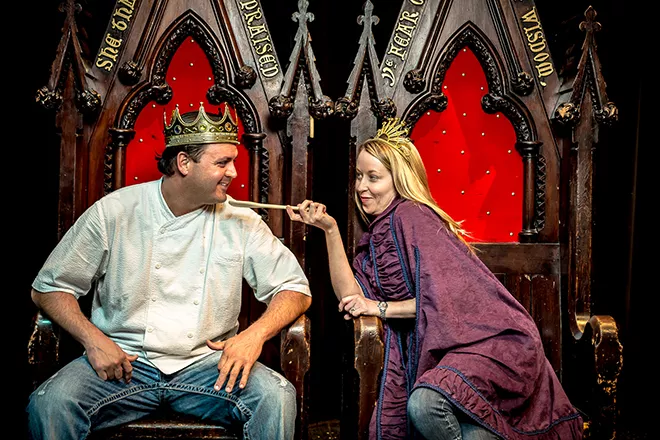 photo by Rob Bartlett
James and Julie Petrakis in a shot from our 2015 Best of Orlando issue
Also in Florida, Bradley Kilgore of Miami is a semifinalist for the Rising Star Chef of the Year, and his Alter restaurant is in the running for Best New Restaurant. Bern's Steakhouse in Tampa is a semifinalist for Outstanding Wine Program.
Last year, nine Florida chefs were named semifinalists: along with Blake, Hunnel, and the Petrakises, there was Hari Pulapaka of Cress (DeLand), Greg Baker of the Refinery (Tampa), Steve Phelps of Indigenous (Sarasota), Brian Whittington of Restaurant Orsay (Jacksonville), Giorgio Rapicavoli of Eating House (Miami) and José Mendín of Pubbelly (Miami Beach).
In 2014, the year that the James Beard Foundation live-streamed the semifinalist announcements from East End Market in Orlando, eight Florida chefs – including the Petrakises, Pulapaka, and chef Henry Salgado of the Spanish River Grill and Txokos Basque Kitchen – were semifinalists.
No Central Florida chef has been named Best Chef of the South or Southeast region, though South Florida has represented over the years: Michael Schwartz of Michael's Genuine Food & Drink (Miami) won in 2010, Michelle Bernstein of Michy's (Miami) won in 2008, and in 1997 Norman Van Aken won for his first iteration of Norman's in Coral Gables (the Orlando location is considered the Norman's "standard-bearer" now).
Full list of JBF semifinalists for Best Chef: South
Greg Baker, The Refinery, Tampa, FL

David Bancroft, Acre, Auburn, AL

Vishwesh Bhatt, Snackbar, Oxford, MS

Kathleen Blake, The Rusty Spoon, Orlando, FL

Bill Briand, Fisher's Upstairs at Orange Beach Marina, Orange Beach, AL

Justin Devillier, La Petite Grocery, New Orleans

Jose Enrique, Jose Enrique, San Juan, PR

Michael Gulotta, MoPho, New Orleans

Jesse Houston, Saltine, Jackson, MS

Scott Hunnel, Victoria & Albert's at Disney's Grand Floridian Resort & Spa, Lake Buena Vista, FL

Deme Lomas, Niu Kitchen, Miami

Matthew McClure, The Hive, Bentonville, AR

Rob McDaniel, SpringHouse, Alexander City, AL

José Mendín, Pubbelly, Miami Beach, FL

James and Julie Petrakis, The Ravenous Pig, Winter Park, FL

Michael Pirolo, Macchialina, Miami Beach, FL

Giorgio Rapicavoli, Eating House, Coral Gables, FL

Slade Rushing, Brennan's, New Orleans

Michael Stoltzfus, Coquette, New Orleans

Isaac Toups, Toups' Meatery, New Orleans

See other nominees in all categories
here
.