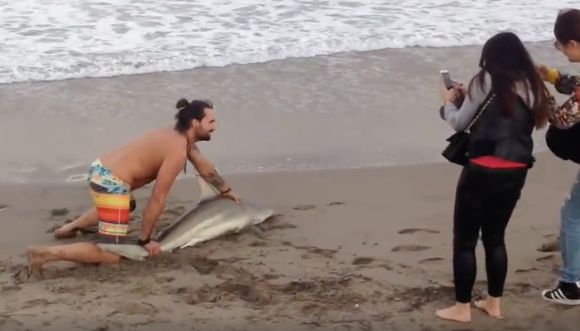 In what appears to be a quest for Instagram likes, a recent video shows a Florida manbun pulling a struggling shark from the ocean and using it as a selfie prop.
The video was
posted to Facebook
on February 20 by Ashleigh Walters, a TV anchor from WPTV. The one-and-a-half minute clip shows an unidentified manbun in Palm Beach pulling the shark onto shore, posing with it, and later dragging it back out to the water.
Last weekend's incident comes only a couple weeks after tourists in Argentina
removed a rare Franciscana dolphin from the water for a round of selfies
until it eventually died.
The fate of this particular shark is unknown, however Walters said in her post that the shark was "put farther into water after end of video. It did not resurface for several minutes."
As you can probably guess, the
comments on this video
range from "What's the big deal?" to "Asshole."
Shark Capture, Release on Palm Beach

VIDEO: Shark capture, release on Palm Beach(Shark was put farther into water after end of video. It did not resurface for several minutes.) WPTV #amcrew #wptvwx #beach #shark

Posted by Ashleigh Walters on Saturday, February 20, 2016