photo by Jason Greene
Manual labor: Theo Lotz and crew in Flying Horse Editions' downtown production studio
Meet the press! Our local fine-art print studio, Flying Horse Editions, is always
humming with under-the-radar coolness
– visiting artists from all over the world come to Orlando to create limited editions and one-of-a-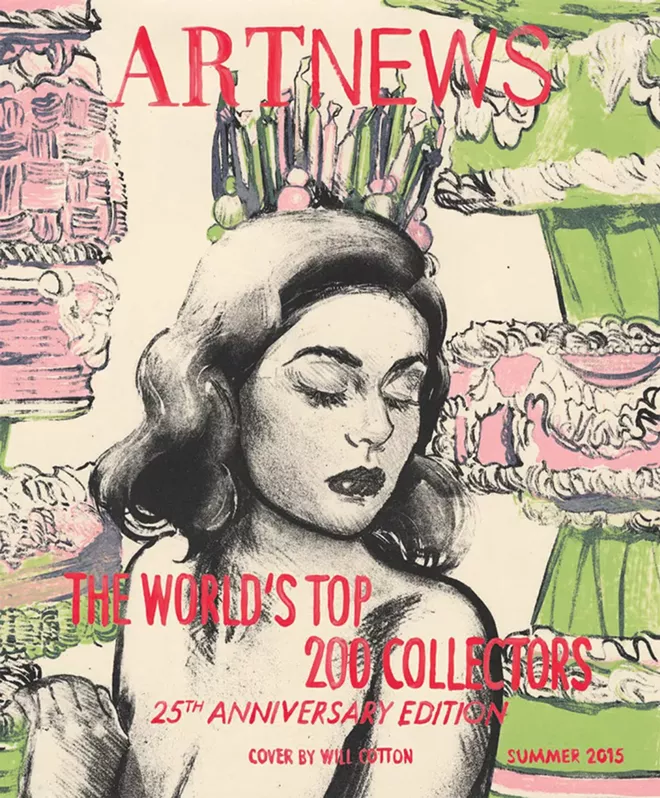 "Candy Crown" By Will Cotton
This Artnews magazine cover was created by Will Cotton at Flying Horse.
kind works – but outside the art scene, a lot of Orlandoans don't realize Flying Horse exists in their backyard. These every-so-often Letterpress Happy Hours are a chance to visit the studio, see some of the work that's been created there recently, and even operate one of the presses.
If you're like, some sort of printing-press groupie you can just hang out for free and admiringly stroke the type trays. But, better, pay your $10 and a) you'll get a drink (beer, wine or soda) and 2) you can customize your own 2016 calendar. It's always better to leave with swag.
6:30-8:30 p.m. Monday, Feb. 29 | Flying Horse Editions at UCF Center for Emerging Media, 500 W. Livingston St. | 407-235-3619 |
flyinghorse.cah.ucf.edu
| free-$10