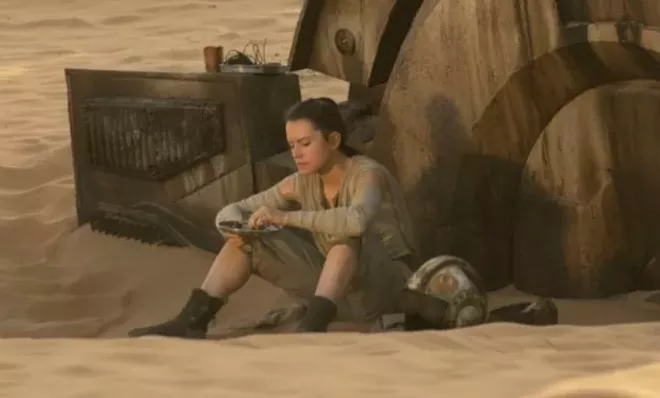 "Star Wars: The Force Awakens"
When I think of memorable food scenes in cinemadom, two stick out:
James Cagney shoving a grapefruit into Mae Clarke's face
in
The Public Enemy
, and Charlie Chaplin boiling and eating his shoe in the film
The Gold Rush
. Both left a sour taste in my mouth. Why those two unsavory scenes are firmly entrenched in my mind, and not ones that are little more feel-good, I can't say. In fact, as I write this, I'm thinking of additional unappetizing scenes in
Salo
and
The Cook, The Thief, His Wife, & Her Lover
. (No spoilers here, but if you've seen either film ...)
Good thing the chefs we polled have better taste when it comes to their favorite food scenes in film. We asked nine of our finest chefs (and a visiting one with a Michelin star) about their most cherished culinary clips on celluloid. Our findings: A certain Danish housemaid and a mob of Italian-American gangsters have left an indelible impression on the kitchen.
Kevin Dundon (Raglan Road, Disney Springs)
One of my favorite movies is
Goodfellas
, a modern gangster classic from the 1990s, and an absolute gem of a movie. It was directed by Martin Scorsese, and some consider it one of his finest movies ever. The specific food scene in the movie that really gets me is when Paulie, Vinnie and Johnny are stuck in prison and are making dinner. Paulie, the boss, is slicing garlic using a small delicate razor blade, and slicing the garlic as thinly as possible so it will "melt" in the oil. He kept saying "don't put too many onions in the sauce." In the face of adversity they still want to get the sauce just right! I love it!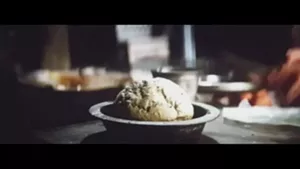 Rey's amazing expanding bread in "The Force Awakens"
Art Smith (Homecoming: Florida Kitchen & Southern Shine, Disney Springs)
Star Wars: The Force Awakens
. Rey cooking and making her
instant bread
on Planet Jakku. I loved watching this gorgeous woman eating with her fingers and sopping up the last juices of her stew.
Norman Van Aken (Norman's, Orlando; 1921 by Norman Van Aken, Mount Dora)
While there are more sensuous scenes in movies like
Tom Jones, Like Water for Chocolate, Babette's Feast
and
9 1/2 Weeks
, the one I have to choose is the fantastic scene in the movie
Goodfellas
where Paul Sorvino's character, Paulie, has "this wonderful system for doing the garlic," as Ray Liotta explains in voice-over. The Bobby Darin music is a fine background, and the dialogue reminds me of that of Elmore Leonard's novels. But the reason it wins for me is that it taught me something. I have sliced garlic this way since watching this scene. I love the subtlety it imparts. The active enzyme of
alliinase
is distributed more like a kiss than a punch, and isn't it just perfect that you can learn subtlety from a mobster? I think so.
Fabrizio Schenardi (Four Seasons Resort, Orlando)
I love
Big Night
, because it shows the real struggle of an independent restaurant and the frustrations of the chef and the restaurant manager. It also shows the cruel reality of the U.S. restaurant industry and how it fosters Americanization of your food. My favorite scene is where he makes the pasta Timpano, because it shows the love and pride of a chef at work.
Kathleen Blake (Rusty Spoon, downtown Orlando)
Babette's Feast
. The best scene is the anticipation of the celebratory meal after she wins the lottery. Their lives are so reserved, they have no idea what to expect. And their expressions – no dialogue – just the pleasure that takes over their faces is the best.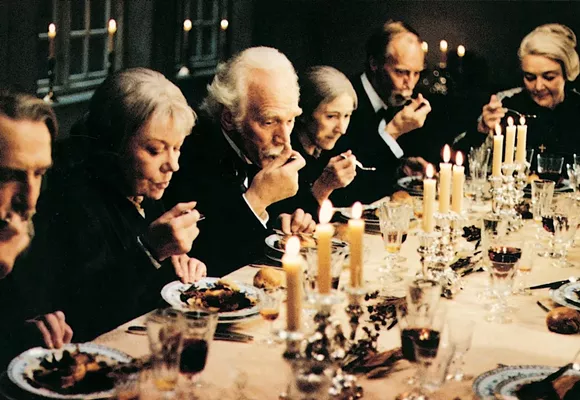 Rick Bayless (Frontera Fresco, Disney Springs)
I've always loved all the food scenes in
Babette's Feast
, but the opening sequence of
Eat Drink Man Woman
is just astonishing. I could watch it endlessly on a loop.
Phillip Foss (El Ideas, Chicago)
The finale of
Babette's Feast
. I love the emotion, passion and selflessness involved in the final dinner.
Hari Pulapaka (Cress Restaurant, DeLand)
Goodfellas
. When Catherine Scorsese's character feeds Henry, Tommy and Jimmy, who stop by Tommy's mother's house to get a shovel to do away with Billy Batts' body. I've seen the movie five times, need I say more? Italian food, Mummy's cooking, Italian mob stereotypes, Italian food: rinse and repeat.
Trina Gregory-Propst (Se7en Bites Bake Shop, Orlando)
When all the kids open the door to the first leg of the factory tour in
Willy Wonka & the Chocolate Factory
and Gene Wilder starts singing "Pure Imagination," it's the best food scene ever. No adult or child who has seen this movie doesn't remember that feeling of wild abandon when the kids eat all the scrumptious sweets and wish it was them. The first time I watched it with my son, seeing his reaction was the best feeling ever!

Kevin Fonzo (K Restaurant, Orlando)
My favorite is the omelet scene from
The Hundred-Foot Journey
. It shows that even the foods we think are the simplest to make can be the most intensive and complex. It shows the intimacy of food and cooking and, most importantly, respect for the ingredients.