THIS LITTLE UNDERGROUND


Jen Cray
The Frights at Backbooth
The recent double-headed bill of
SWMRS
and the
Frights
(Feb. 26, Backbooth) was a showcase loaded with the next wave of
West Coast punk's direct descendants.
SWMRS' lineup includes the son of
Green Day
frontman Billie Joe Armstrong (drummer Joey Armstrong) and both bands are currently riding albums produced by frontman Zac Carper of
FIDLAR,
a scene-blazing band that features two sons of
T.S.O.L.'s
Greg Kuehn. But don't get too carried away with that last shared credit and notions of inheritance. Neither are FIDLAR's heirs apparent. Not yet at least.
Jen Cray
SWMRS at Backbooth
Oakland's SWMRS beam with the same incandescent California sunshine but with less heat and intensity as some of the above. They're punk kids. But like kids, focus isn't always their rule. And as their new album
Drive North
shows, they have their fingers in all manner of genre. Some have praised this
mixtape perspective
as some modern virtue but the truth is that the returns are mixed.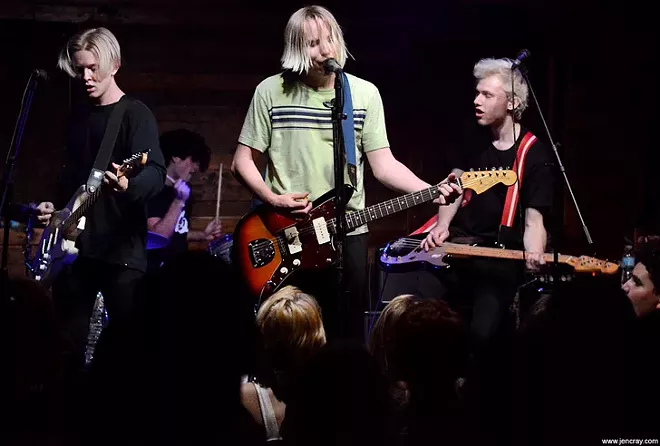 Jen Cray
SWMRS at Backbooth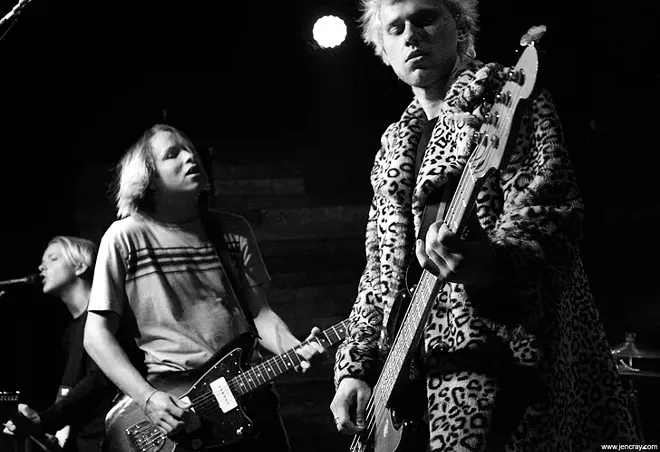 Jen Cray
SWMRS at Backbooth
SWMRS is a fun band, but they're a little obvious and can swing from youthful freshness to pop cheese, sometimes in the same song. Seriously, a paean to
Miley Cyrus
is as un-punk as it gets. However, on stage and free of the indulgent studio gloss, they're more direct and convincing.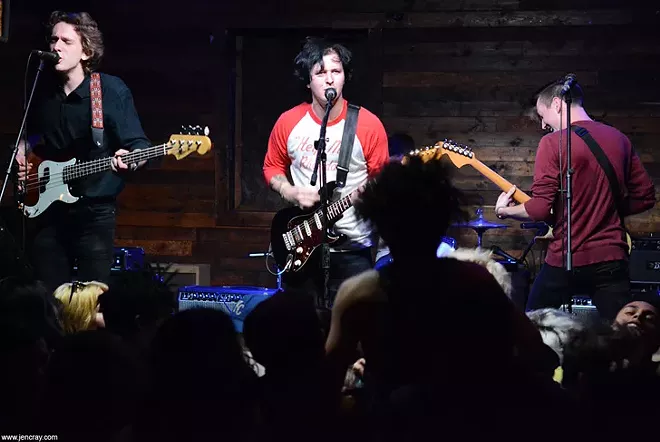 Jen Cray
The Frights at Backbooth
San Diego's the
Frights
are truer to the
current school of garage punk
and rock with more fire and precision. With threads of surf, doo-wop and some interestingly weird sonics, they're a bratty, shambolic tumble with lots of catchy, scuffed hooks.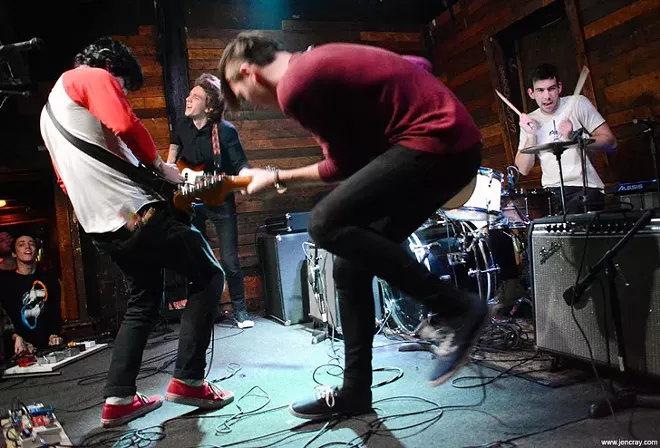 Jen Cray
The Frights at Backbooth
Although these aren't bands exactly furthering the cause yet, the show, even in all its developmental adolescence, was kind of a nice glimpse into the
next class of the punk scene.
The audience was so young that the Frights' cover of
Violent Femmes'
"Add It Up" – which absolutely would've incited a
parent pit
– didn't quite pop off as much as the band probably hoped. But it was a scene, and I like what I saw in the crowd.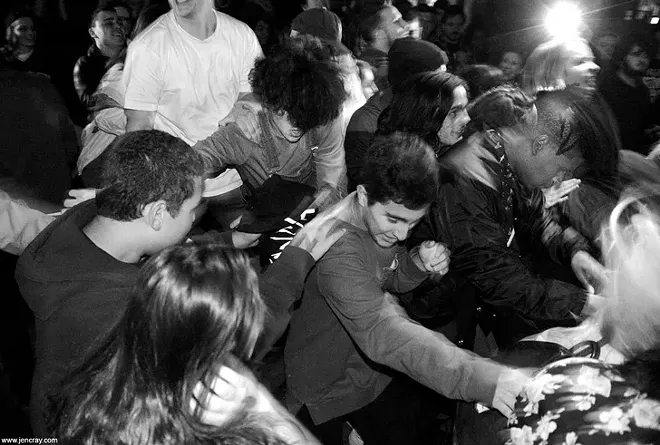 Jen Cray
The Frights at Backbooth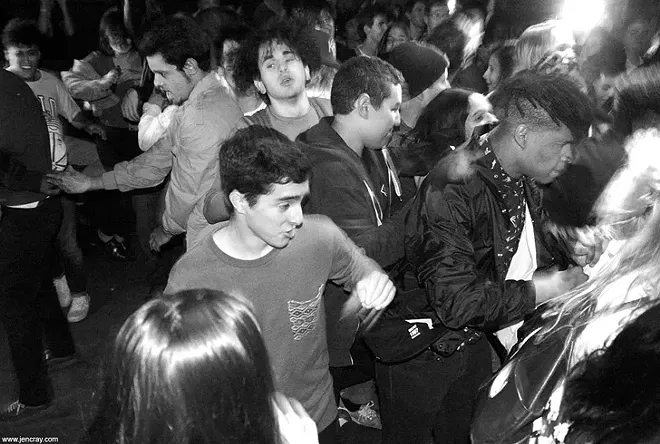 Jen Cray
The Frights at Backbooth
The
pit
was total mania, like a big teenage bounce house. It was gloriously wild but not violent, and cool enough to be
coed
– almost nothing like the tough-guy scene that I came up in. I learned a shitload of things from those days, things I wouldn't trade for anything and things today's youth could probably use a dose of. But I like that kids have this new reality. I think my 15-year-old self would've learned a lot from this, too.
Jen Cray
The Frights at Backbooth
////////////////////////////////////////////////////////////////////////////////////////////
This Little Underground
is Orlando Weekly's music column providing perspective, live reviews and news on the city's music scene.

Follow Bao on Twitter (@baolehuu)
Email Bao: [email protected]