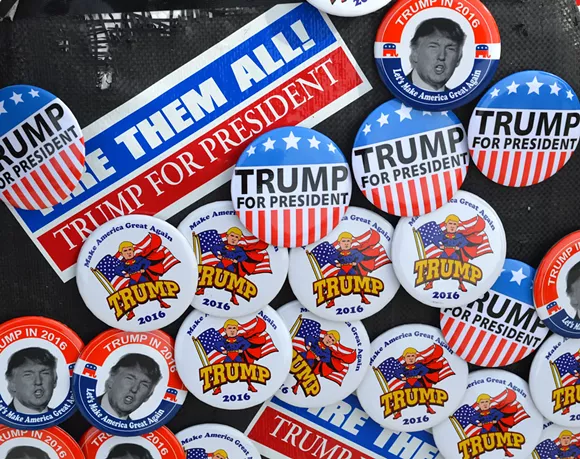 Photo by Monivette Cordeiro
Donald Trump's speech at the University of Central Florida begins at 2:30 p.m., but by 9 a.m., his supporters and protests were rallying outside of the CFE Arena.
Photo by Monivette Cordeiro
One one side of the street, protestors held signs arguing for peace, tolerance and the occasional jibe against Trump. One protestor, Bassem Chaaban, of director of outreach at the organization American Islam, says Trump is sending the country back with his message of racism and discrimination. Trump's comments put local Muslims in danger and some of American Islam's facilities have been vandalized, Chaaban says.
Photo by Monivette Cordeiro
"We're here representing the Muslim community to send a peaceful message to Trump and his supporters that we respect their rights, but his rhetoric is divisive toward Muslims, immigrants and everyone else he's insulted," he says. "Our next president needs to be a vehicle for unity."
Fanny and Edward Perry flew all the way down from New Jersey to see Trump speak at Saturday's event. As they were standing in a line that snaked across a block, the Perrys outlined why they liked Trump. They say he's a billionaire who has connections that can fix the country, that he puts Americans first and helps veterans. Both say they won't vote for any other Republican candidate if Trump doesn't win the nomination.
"If he ran independently, in the end I would support him," Fanny Perry says. "I wouldn't do what I'm doing for another candidate."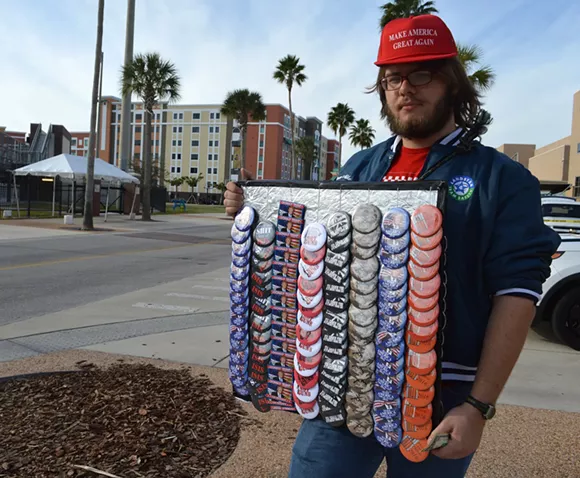 Photo by Monivette Cordeiro