Presidential candidate Donald Trump convinced an Orlando crowd of roughly 10,000 people to lift up their right hands and pledge their support for him on Saturday.
"Raise your right hand," Trump told the repeating crowd sitting inside the University of Central Florida's CFE Arena. "I do solemnly swear that I, no matter how I feel, no matter what the conditions, if there's hurricanes or whatever, will vote on or before the 12th for Donald J. Trump for president."
The Republican candidate's weekend speech at UCF was met with adoration from his fans and multiple interruptions from protestors who accuse him of racism and xenophobia. Trump repeatedly attacked the press, the Republican establishment and Florida's U.S. Sen. Marco Rubio, calling him "Little Marco" and a lightweight.
"If we win Florida, believe me, it's all over," Trump told the crowd. "You're going to have a great president again, and you're going to have a great country again."
At a little over an hour, Trump's speech rarely contained specific policies, which didn't seem to bother the crowd. Trump's famous call for Mexico to build a wall among the southwestern border was met with whoops and cheers of "Trump! Trump! Trump!"
Inside, the magic of the moment must have seemed palpable to Trump's supporters, but once outside, they were met with a large group of fiery protestors who waited hours for them to come out. The braggadocio and bravado they had directed at single protestors who disrupted Trump's speech wilted as some students yelled, "Get off our campus!"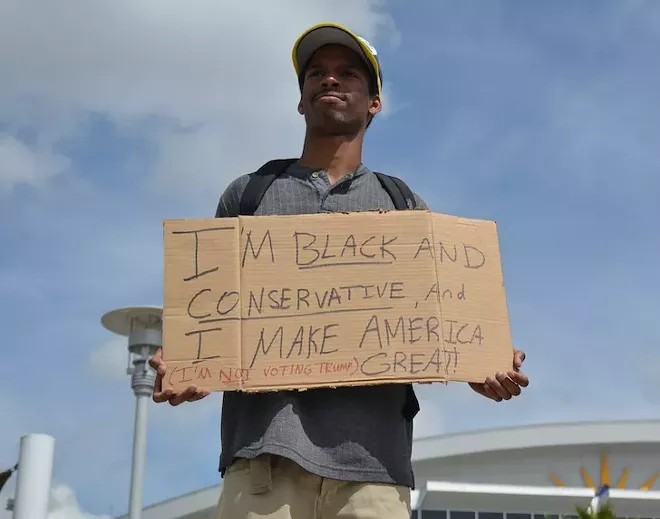 Before he left, Trump called the galvanizing movement of conservatives behind him a "revolution," and although he's been greedy for himself in the past, Trump says he wants to use that greed for good now, as contradictory as that might seem.
"I want to be greedy for the United States of America," he told the crowd. "I'm going to be so greedy for you people."