The popular ride share company
Uber
is blasting both outgoing
Florida Senate President Andy Gardiner
and taxi service provider Mears Transportation in a new direct mail campaign that accuses the two parties of having an unethical and cozy relationship.
Essentially, the mailer makes the case that because of Gardiner's close relationship with Mead Transportation, he won't let the Senate vote on a ride-sharing enabling bill.
Entitled, "Connect The Dots," the mailer shows pictures of Gardiner posing with members of Mears Transportation, an Orlando-based company, and accuses the two parties of being "Lifelong friends."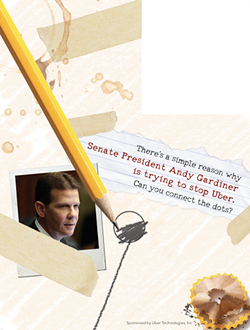 It also pulls quotes from a 2014
Orlando Sentinel
article where Paul Mears Jr. refers to Uber as "an existential threat to the legacy taxi industry," and another from the
Miami Herald
, stating that Mears Transportation has donated more than $150,000 to Gardiner and the Republican Party of Florida.
The mailer, which begins Wednesday, March 9, will be sent to residents in Orlando, Gardiner's home district.
Uber also launched a similar television spot this week that will air in both Orlando and Tallahassee.