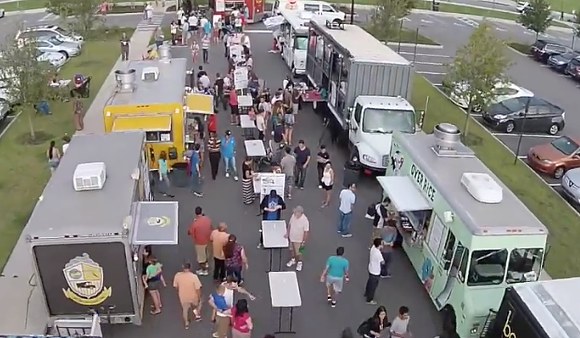 photo via TheDailyCity.com
The Daily City Food Truck Bazaar celebrates its fifth birthday Sunday, March 13. It's hard to believe it's only been five years since food trucks first took over Orlando, seemingly overnight; what was once a brand-new fad is now a firmly established sight around town – in front of bars, in pods at outdoors events, at weekly gatherings like Tasty Tuesdays, and when you really want to go all out and try a little bit of everything, at the
Daily City's Food Truck Bazaar
, which generally brings together about 20 different trucks in one place.
"This is big for me," says Mark Baratelli, creator-organizer of the well-loved event. Tonight marks 600-plus events with 57 trucks in more than 20 cities, and the party in the Orlando Fashion Square parking lot Sunday evening features the MudFlappers, a birthday party hat contest, various giveaways and 20 of Mark's fave trucks.
The traditional gift for a fifth anniversary is:
wood
. So if you want to bring Mark a birthday present ... well, you could carve him a nice plaque, or you could go more
Magic Mike
. Up to you.