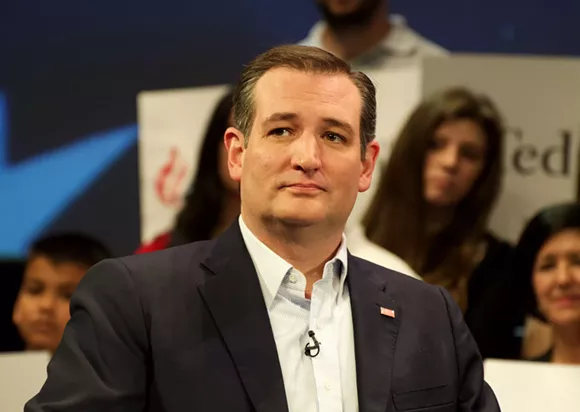 Photo by Monivette Cordeiro
Florida needs to end Donald Trump's presidential aspirations, according to U.S. Sen. Ted Cruz.
"For 40 years he's been part of the corruption, but now suddenly we're going to elect him," Cruz tells an Orlando town hall on Friday. "That's like putting the fox in charge of the hen house."
The
latest CNN poll
shows the Republican presidential candidate coming at a distant third behind Trump, who has 40 percent of the vote, and also behind Florida's U.S. Sen. Marco Rubio, who has 26 percent of the vote. The poll predicts 18 percent of Florida Republican voters will go to Cruz.
Cruz, along with former Republican contender Carly Fiorina, joined Fox News host Sean Hannity at the Faith Assembly of God church on Curry Ford Road.
After Cruz went on his standard stump speech about repealing Obamacare and abolishing the IRS, the Texas senator compared Trump to Democratic candidate Hillary Clinton, calling them "the flip side of the same coin." Although the "Washington establishment" would like a brokered Republican convention, Cruz is confident he can win the 1,237 delegates to secure the nomination.
"I understand why people are backing Trump," Cruz says. "They're angry...They're tired of politicians lying to them. But when people start examining Trump's record, they realize he is what they're angry about."
Rubio, meanwhile, is in
Ohio
trying to convince his supporters to vote for Ohio Gov. John Kasich in an effort to also #DumpTrump.
If you're exhausted by the increased traffic from presidential candidates visiting Orlando and an overall blah feeling, rest easy. Florida's primary and the expiration date on a couple of campaigns is next Tuesday, March 15.