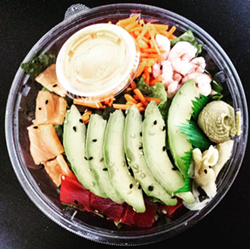 It's all over the lists of "2016's Hottest Food Trends," and poke (pronounced poh-kay) is making its way into menus in Orlando. Here are four places to get the Hawaiian chopped, marinated raw-fish delight in town:
1.
Winter Park Village Publix
— It's at the sushi counter and labeled "chirashi," but it's closer to a poke bowl than anything else (shown, right). Raw salmon, tuna and blanched baby shrimp outline the brown-rice-based bowl topped with carrots, avocado and mixed greens. A two-ounce cup of spicy mayo for mixing is a must. ($7.99)
2.
Sus Hi Eat Station
— At this DIY sushi spot near UCF (and soon opening in Altamonte Springs), you can pick a bowl instead of a nori-wrapped roll and pick a poke that suits you. Pick from tuna or salmon (krab and "volcano" also available, but not traditional) and top with as many of the 26 toppings and 18 sauces as you like.
3.
Da Kine Poke Truck
— In just one more week, you can grab-and-go your poke from our newest truck on the block. You'll choose your base (either white or brown rice or mixed greens) plus your protein (ahi tuna, salmon or tofu) for the spicy kimchi bowl, coconut curry bowl or traditional soy-based "shoyu" poke. Look for the truck at Thirsty Topher on Wednesday, April 6, at 6 p.m.
4.
Quickly Boba & Snow
— For better or worse, that gorgeous macaron display at Quickly has been replaced with a conga line of raw and cooked ingredients for the new poke bowls. For between $11 and $13, you can pick two or three pokes (yellowtail, ahi or salmon) on top of rice, wonton "nachos" or salad. A couple of the toppings are a premium (read: extra $$) like wakame seaweed salad and avocado, or just pile them all on for $2 more.