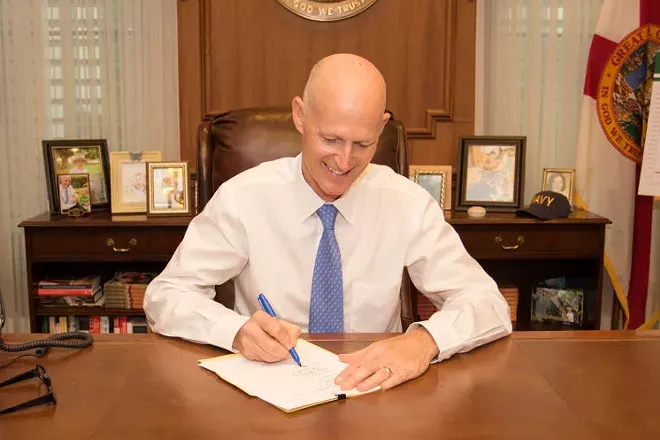 Gov. Rick Scott signed an $82.3 billion budget for the next fiscal year, vetoing
$256.1 million
in line-items Thursday night.
The largest budget in state history increased student spending on public schools by 1 percent, including $713.5 million for education construction projects, according to
The News Service of Florida
. The budget also includes $151 million for Everglades restoration.
The
Miami Herald
reports the amount of money Scott vetoed was close to a $250 million incentive fund for recruiting businesses that Scott wanted, but the Florida Legislature ultimately rejected.
"I will be signing this budget into law as soon as the Florida Legislature delivers it to me and withholding approval for approximately $256.1 million in projects that do not provide a significant return on taxpayer investment," Scott says in a
press release
before he signed the budget.
While the University of Central Florida's downtown campus escaped Scott's pen, getting $20 million in state funding,
others
weren't so lucky. The biggest line-item
veto
included almost $15 million for a proposed Center for Innovative Technology Education at Eastern Florida State College, $8 million for Florida International University to buy land, and $8.3 million for UCF to renovate its engineering building and for the Interdisciplinary Research and Incubator Facility.
Smaller cuts included: $500,000 for Eatonville's Hungerford Amphitheater; $250,000 for the Wells Built Museum in Orlando; $3 million for the Historic Cocoa Village Playhouse parking structure; $400,000 for the Minority Male Initiative; and $25,000 for college prep and STEM programs for girls.
You can see the entire list of vetoes
here
.