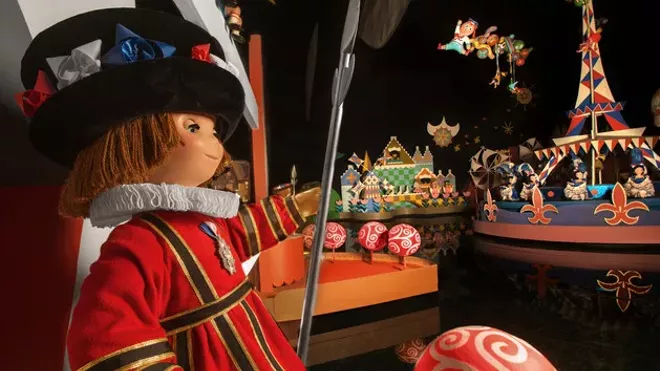 When the MyMagic+ was first announced a major selling point of the new technology was the on-ride personalization that it would allow for. By scanning guests MagicBands, which feature a small RFID chip in them, Disney can track guest movement throughout the park, including on the rides.
In the 3 years since the program was first announce, Disney has yet to reveal how or when this aspect of the tech would begin being used. Earlier this month we saw our first public use of it with
a new closing scene on 'it's a small world' at Magic Kingdom
.
Television screens had been installed in the final scene over a year ago but it wasn't until this month that the televisions were finally turned on. As each boat passed by, the television screens featured the guest's names on the screens along with a cartoon version of one of the dolls from the ride. Only guests who wear registered MagicBands have their name featured on the screens.
Many compare the new exit scene to a similar one on Universal's E.T. ride where E.T. says goodbye to guests by name as they pass him. There, guests register their names before boarding the ride. The Small World version is more passive, in the sense that it's not requiring an employee to manually enter the names of guests at the beginning of the ride.
At one point Disney mentioned that the MyMagic+ program would include the ability to design your own Small World doll online that you could see on the ride. That experience has yet to be rolled out.
The new final scene
is currently being tested sporadically
. No word on if the personalization will be seen in other rides anytime soon nor on the custom doll design experience.