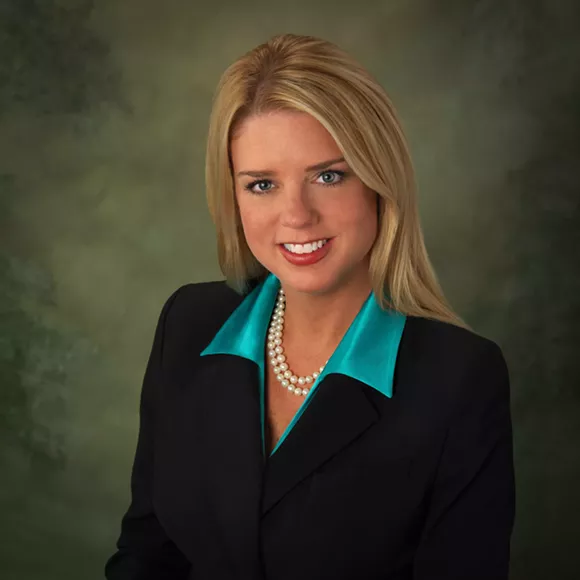 A little more than a week after Florida Attorney General Pam Bondi
endorsed
Republican candidate Donald Trump before the state's primaries, things are looking a little turbulent for this friendship.
The
Washington Post
reports that Trump's aides say his charitable foundation, the Donald J. Trump Foundation, made a mistake when it gave $25,000 to a campaign PAC backing Bondi in 2013, which is "a potential violation of federal rules prohibiting charities from aiding political candidates."
WaPo
reports the error was made worse when the foundation did not list the $25,000 donation made to Bondi's PAC, And Justice for All, when it reported to the IRS. The foundation, though, did report a $25,000 donation to an unrelated group in Kansas called Justice for All, whose representative said it had not received money from the Trump Foundation.
Spokespersons for Trump's campaign and foundation both blamed the problem on "a series of clerical errors," telling
WaPo "
they were unaware of the charity's mistakes until Monday, when they were notified that a left-leaning watchdog group, Citizens for Responsibility and Ethics in Washington, filed a complaint with the IRS."
The penalty for donating to Bondi could be a loss of nonprofit status for the foundation and a harsher penalty for filing false information with the IRS, according to
WaPo
.
Since Bondi's endorsement, several media outlets
reported
on this $25,000 donation that came just as Bondi was deciding whether to join an investigation of Trump University. Despite several complaints against the institution filed in Florida, Bondi decided not to join New York Attorney General Eric Schneiderman in the investigation, reasoning that if New York won the lawsuit, Florida consumers would also be compensated.