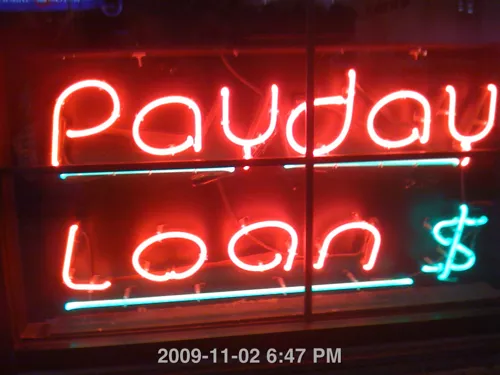 Since 2005, Floridians have paid $2.5 billion in fees to payday lenders, despite state regulations laws, according to a new
report
from the
Center for Responsible Lending
.
A
payday loan
is a high-interest, low-dollar loan that is due on your next payday, says Delvin Davis, a senior research analyst at the non-partisan research center and co-author of the report. For example, let's say you need $500. You go to the payday loan store, you write the lender a post-dated check for $500 plus, in this case, a $50 fee. Two weeks later, the lender cashes your check, and that's the end of it, right?
What actually ends up happening, according to Davis, is that after two weeks, most people don't have the money to pay $550. Instead, they go back to the lender and pay the rollover fee of $50 for two more weeks to pay off the full loan.
"Basically you're kicking the snowball down the hill," he says. "Two weeks later, the same situation happens again and every two weeks you're paying the rollover fee, but you never pay anything down on the original $500 loan. It's a debt treadmill. It's easy to get into, but hard to get out."
The billions Floridians have paid to lenders in the past decade are just in fees, like the $50 example Davis discussed. Last year alone, lenders collected $311 million in fees.
Florida passed a payday loan reform law in 2001 that limits people to borrowing one loan at a time, a 24-hour waiting period between loans, extended payment plans, financial counseling and the authority to track payday lending activity. But the report says the Florida law has loopholes payday lenders are exploiting "through a regulatory framework that fails to safeguard borrowers from sliding deeper and deeper into a cycle of debt, and permits loans with (annual percentage rates) in excess of 300%."
An
Orlando Sentinel
article from 2007 reported some payday lender companies were skirting reforms, charging annual percentage rates on loans that exceeded 400 percent to 700 percent. Davis says payday lenders are operating under a different section of Florida law that allows them to charge astronomical annual percentage rates averaging 278 percent in the state. Davis and his co-author also found 83 percent of payday loans are going to Floridians stuck in seven or more loans.
When researchers mapped 1,100 payday loan stores in Florida, they found that stores were highly concentrated in African-American and Latino communities.
"Across the country, African‐Americans and Latinos continue to earn less on the job and possess only a fraction the net worth of their white counterparts," the Center for Responsible Lending report says. "...Considering all of these facts, individuals and communities that struggle most to accumulate wealth and are less capable of breaking the cycle of debt are most geographically targeted by payday lenders."
The report also found that the number of seniors ages 65 and older borrowing payday loans doubled from 3.4 percent of all borrowers in 2005 to 8.6 percent in 2015.
Nationally, 12 million people take out payday loans annually, according to
The Pew Charitable Trusts
. The federal Consumer Financial Protection Board (CFPB) is looking into more regulations on payday lender operations, but a bipartisan group of U.S. House members are proposing a bill that would "block the CFPB from issuing new payday lending regulations for at least the next two years," according to
International Business Times
.
Several of Florida's House representatives joined the group, including Democratic National Committee chair Debbie Wasserman Schultz.
IBT
reports 26 out of 27 Florida House representatives signed onto an April 2015
letter
to CFPB Director Richard Cordray saying Florida's payday regulations were "among the most progressive and effective in the nation" that have become a "national example."
"In light of Florida's success in this regard, in addition to the two pronged framework that you have established to implement debt trap prevention and debt trap protection, we implore you to include the Florida model as a third method," the letter says. "To ignore our experience, which as proven to encourage lending practices that are fair and transparent without restricting credit options, would do an immeasurable disservice to our constituents."
Wasserman Schultz, U.S. Rep. Patrick Murphy and U.S. Rep. Alcee Hastings are "among the top recipients of
campaign donations
from the industry," the
Tampa Bay Times
reports.
The National Council of La Raza, Latino Leadership, Inc. and the Florida Alliance for Consumer Protection joined the Center for Responsible Lending in examining Florida's payday lending regulations, according to a
press release
.
"Federal regulation designed after Florida's payday law would continue to line the pockets of payday lenders with borrowers' hard-earned wages," says Marisabel Torres, a senior policy analyst at NCLR, in the release. "Struggling communities and minority borrows cannot afford to be targeted with products that are designed to drain their wealth. We need a strong payday rule that will end the debt trap once and for all."
Read the rest of the Center for Responsible Lending's report
here
.