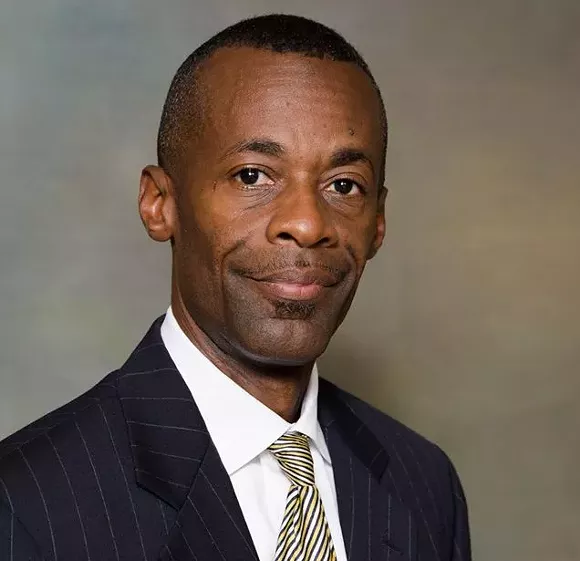 An Orange County grand jury indicted Eatonville Mayor Anthony Grant and two others on 25 charges related to allegations of voter ballot fraud during the town's 2015 election.
Grant's alleged co-conspirators, James Randolph and Mia Antoinette Nowells, were indicted on most of the same charges as the Eatonville mayor. During Monday's press conference regarding the indictments, Orange-Osceola State Attorney Jeff Ashton said Randolph and Nowells had been arrested, but would not elaborate on the exact relationship they had with the mayor. There is an order for Grant's arrest, but as of Monday afternoon, he is not in custody.
Grant, Randolph and Nowells were charged with six counts of unlawfully marking or designating a ballot choice; six counts of violating Florida's Voter Protection Act; six counts of corruptly influencing voting through intimidation; two counts of absentee ballot voting violations; one count of conspiring to violate election code; one count of soliciting or attempting to vote fraudulent ballot; one count of voting fraud; and one count of interference with voting registration.
The list above includes 22 third-degree felonies and two misdemeanors. Grant and Randolph were also charged with an additional misdemeanor.
The investigation started after Bruce Mount, the former mayor of Eatonville, sued Grant after the historically black town's March 2015 election, in which Grant unseated Mount. In his
lawsuit
, Mount contested the validity of the election and alleged Grant offered residents bribes and reduced rents if they voted for him. Grant received 196 absentee votes to Mount's 69 absentee votes, which Mount also alleged was a "statistical anomaly."
The
Orlando Sentinel
reported Mount's lawsuit was eventually dismissed because it was improperly filed. Although Mount's lawsuit ended, it perked the interest of state officials, including the Florida Department of Law Enforcement.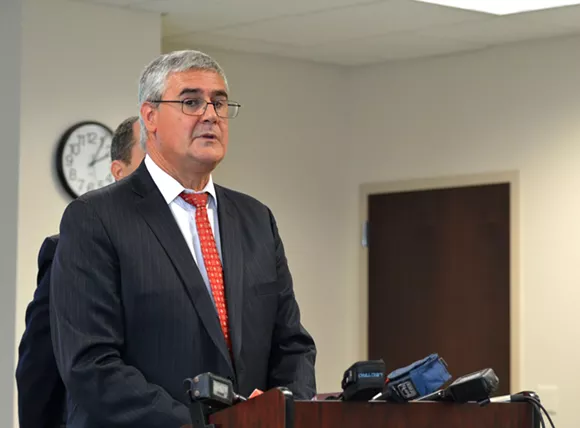 Photo by Monivette Cordeiro
Orange-Osceola State Attorney Jeff Ashton at a Monday press conference regarding the indictment of Eatonville Mayor Anthony Grant.
At the press conference, Ashton says the six-month investigation by the grand jury was one of the longest he's ever been involved in. He added that the case centered around at least five voters who were allegedly coerced and intimidated by Grant, Randolph and Nowells. One of the allegations focused on a voter who didn't live in Eatonville. Some of the voters were of modest means and lived in public housing, according to Ashton.
"Somebody that they saw as a position of authority was telling them to do something and many of them were doing it not because they wanted to, but because they felt they had to," Ashton says.
Danny Banks, special agent in charge for the FDLE, says the investigative team worked for months to present the grand jury with evidence not based on speculation or rumor.
"This case was always about just one thing," he says. "It was giving the citizens of the town of Eatonville the opportunity to finally be heard."
A trial for Grant, Randolph and Nowells has not been set, Ashton says. Gov. Rick Scott will have to decide if Grant continues to be mayor of Eatonville.
This story has been updated from an earlier version.