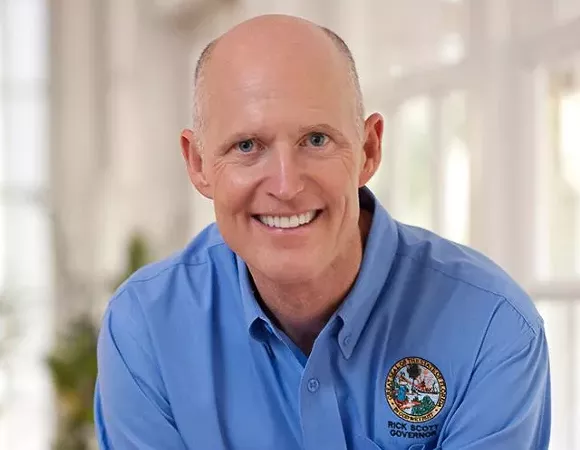 Photo via Rick Scott Facebook page
After a strange request last week for President Obama to cut short his Argentina trip and come to Florida, Gov. Rick Scott is now asking someone else to come brave the mosquitos here: Yale University.
In a press release, Scott calls on the 314-year-old university to move its operations to the Sunshine State after the Connecticut legislature proposed a 7 percent tax on the net investment profits of Yale's $25.6 billion endowment. In a statement, Scott says:
"With news that the Connecticut Legislature wants to unfairly tax one of the nation's most renowned universities to deal with the state's budget shortfall, it is clear that all businesses in Connecticut, including Yale, should look to move to Florida.

Since I took office in 2011, we have not raised any taxes or fees in Florida. In fact, we have cut taxes 55 times, including $1 billion in tax cuts over the last two years, which saved Floridians $5.5 billion. This has not only resulted in a million new jobs in five years, but our state has a budget surplus of more than $1 billion.

If Connecticut lawmakers are seriously considering another tax on Yale, businesses and families should be concerned about the other tax increases their Legislature will consider. We would welcome a world-renowned university like Yale to our state and I can commit that we will not raise taxes on their endowment. This would add yet another great university to our state."
No word yet from Yale University on when it plans to get here.