THIS LITTLE UNDERGROUND


Jen Cray
Boxing at the Zoo at Spacebar
There's some new booking blood at
Spacebar
that may mean an infusion of
live music
into the Milk District. Although
Happy Camper Booking
has been one of the promoters doing shows at Spacebar for a while now, its principal has recently been put in charge of the bar's calendar.
What's more, the bar is making
more dates available
for bands. In addition to its usual musical Thursdays, Spacebar is looking to open up for live music on
Mondays
and
Sundays,
nights it's usually closed. Got inquiries? Hit up
dave@happycamperbooking.com.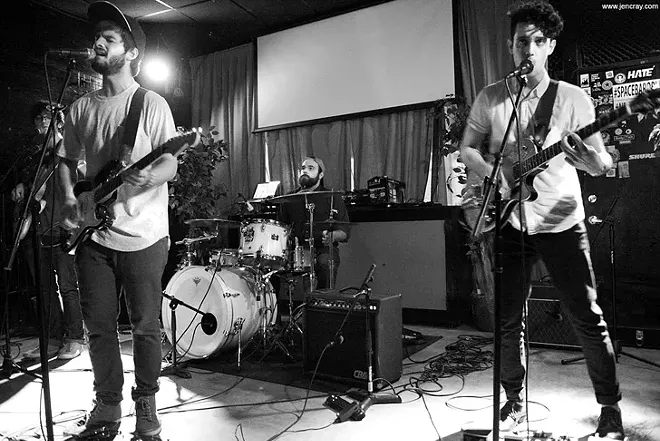 Jen Cray
Boxing at the Zoo at Spacebar
In fact, Happy Camper's recent local showcase (March 31) yielded a nice discovery in
Boxing at the Zoo.
Even though their melodies are sweet and sturdy enough to stand on their own, this is an indie-pop band that's smart enough to shoot higher with some
nice instrumental detail.
But their greater virtue is the balance with which they handle it all, perking the brain enough to be interesting but upholding enough breeze and crispness to never get mired in fuss. The result is
pleasingly dynamic guitar pop
that sails above the fray.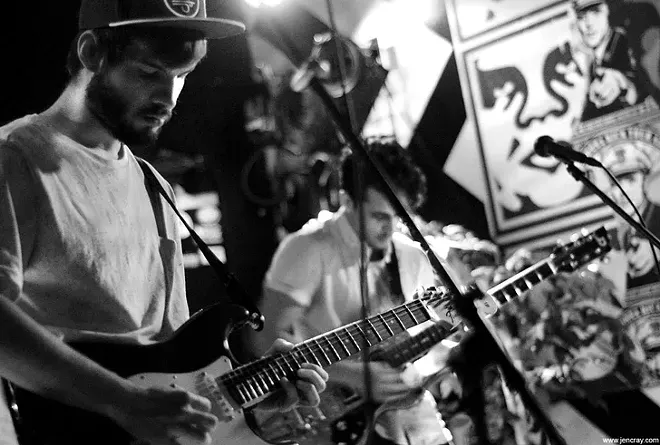 Jen Cray
Boxing at the Zoo at Spacebar
Starting the night was Orlando's
Sherlok.
For only a duo, they have many moving pieces. The two players shuffled between guitar, bass, drums and electronics. If that looks like a lot, you should've heard it. It was a lot. Unfortunately, though, it was more a confetti of thoughts than a stream of full ideas.
Stylistically, they were an
indiscriminate salad
of indie folk, electronic and odd bits of noodly wankery. There was even a dash of Spaghetti Western at one point because, fuck it, why not, right? That
lack of judiciousness
even spread into their method, which seemingly made use of every effect at their disposal. They're clearly still a developmental band, but maybe once they're done playing with their toys they'll focus on their songs.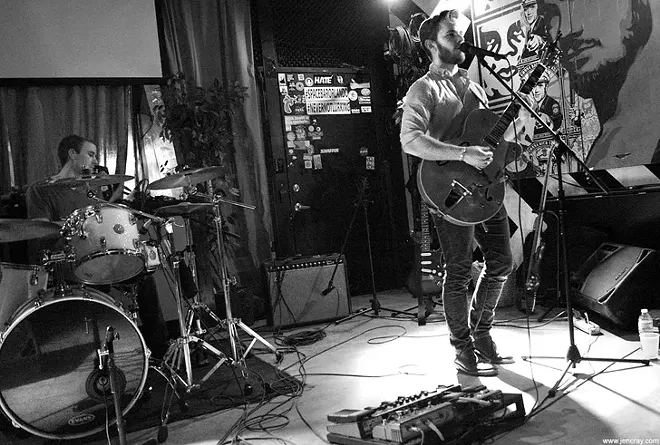 Jen Cray
Sherlok at Spacebar
////////////////////////////////////////////////////////////////////////////////////////////
This Little Underground
is Orlando Weekly's music column providing perspective, live reviews and news on the city's music scene.

Follow Bao on Twitter (@baolehuu)
Email Bao: baolehuu@orlandoweekly.com