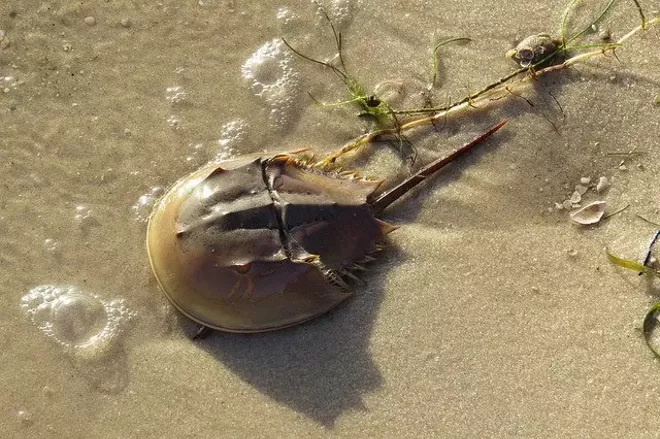 Photo via FWC/Twitter
According to the FWC, only one species of horseshoe crab is found in North America, the Limulus polyphemus.
Biologists with the Florida Fish and Wildlife Conservation Commission want Floridians to know that if they spot any beachside horseshoe crab sex, hook 'em up with the deets.
Spring is when horseshoe crabs procreate on the sandy shores of Florida and unfortunately, populations are believed to be in decline. Any information about Florida nesting populations is valuable, says the
FWC
.
"Horseshoe crabs are declining in number throughout their range due to a variety of factors, including overharvesting for the bait industry and loss of reproductive habitat. Seawalls and other types of shoreline development can disrupt the horseshoe crab's reproductive activities."
Horseshoe crab mating is known to occur on all Florida county shorelines and so if you see any crab doin' the business, you can report it with this
online survey
, by emailing
horseshoe@MyFWC.com
, or by calling 1-866-252-9326.