Two years on the lam, a lost Florida pup has been reunited with its owner after being found more than 1,000 miles away.
Last week, the
Dearborn Animal Shelter
in Dearborn, Michigan, came across a pug-nosed terrier, and luckily it was microchipped, according to
CBS Detroit
.
Dearborn Animal Shelter contacted the owner, Debi Petranck, to reveal the good news about her lost dog, Zeus. Petranck informed the shelter that Zeus went missing almost two years ago in Ocala, Florida.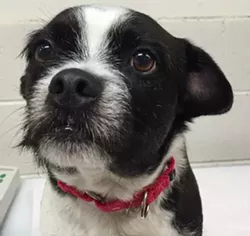 Photo via Dearborn Animal Shelter
CBS Detroit reported that Zeus had been picked up by a Florida man who moved to Dearborn, but Zeus escaped last week.
The two reunited on Tuesday in Dearborn.