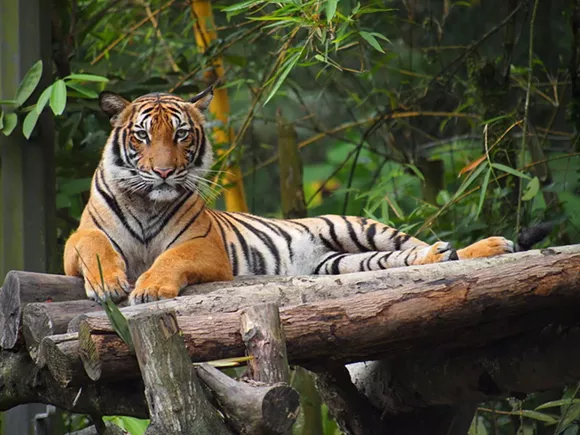 A Palm Beach zookeeper
died
at the hospital after she was attacked by a male Malayan tiger at the Palm Beach Zoo.
The
Palm Beach Post
reports Stacey Konwiser, 37, was in the tigers' nighthouse at the Palm Beach Zoo when she was attacked. Naki Carter, a spokesperson for the zoo, tells the
Post
that Konwiser was "performing basic tasks...getting prepared for the 2 o'clock Tiger Talk."
"She was very proficient and efficient handling these animals and something happened. Exactly what occurred remains under investigation," Carter tells the
Post
.
The tiger was tranquilized so that officials could reach Konwiser, who was rushed to St. Mary's Medical Center. The tiger did not escape, but the zoo was put on lockdown and guests were herded into the zoo's gift shop, according to the
Post
. Grief counselors and the federal Occupational Safety and Health Administration plan to visit the zoo. The Malaysian tiger is a critically endangered species, and there are four at the Palm Beach Zoo, the newspaper reports.
"There are no words to describe," Carter says, according to the
Post
. "We've lost a family member. This is a family that is in mourning right now."