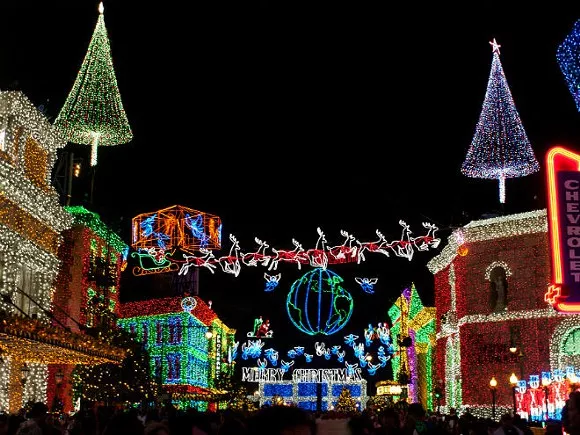 Photo by Holly Weldon Carpenter
Disney's Hollywood Studios officially broke ground on the new Star Wars land recently but one item that we thought we had lost forever for the new land may not be gone after all.
The Osborne Family Spectacle of Dancing Lights had its last 'glowing' this past winter but
Magical Distractions
has found some odd occurrences on Disney's website. On Disney's Hollywood Studios website the Osborne Lights were still active but instead of being listed in the Streets of America it is now listed in the newly renamed Muppets Courtyard.
The link no longer works but that hasn't stopped the thought that the Osborne Lights may be returning under a new name and in a new location. The Muppets Courtyard area includes some of the former Streets of America and does feature similar facades as the former area.
The seasonal Osborne Lights were one of the premier events each year at Hollywood Studios and its closure could negatively affect attendance in the park prior to the opening of the new Pixar and Star Wars themed areas.
Both Disney Springs or the Wide World of Sports were rumored as possible future locations for the Christmas light spectacle but neither of those rumors have been heard from in months. The new Muppets Courtyard area of the park will see most of its current construction walls down
by early winter
so that area of the park would be one of the more preferred areas to host a special event.
Last year saw a number of upcharge events linked to the Osborne Lights. The Muppets Courtyard is even more sequestered than the former Streets of America. The Muppets Courtyard as currently laid out does also form a large circle wrapping around the Stage 1 gift shop with a single entrance and exit. Next to the Muppets Courtyard is Tatooine Alley, a backstage access road that has been opened for guest access during events in the past.
No winter events have been announced for Hollywood Studios for this upcoming season but the park will still in its current much smaller state. None of the Star Wars or Toy Story areas of the park expected to open before late 2017 at the earliest.