THIS LITTLE UNDERGROUND

Orlando It band
Sales
has been one of those interesting, somewhat miraculous stories of modern ascendancy that bucks the traditional grind. First, they were beneficiaries of that specious little thing called
early internet hype
. Then, instead of cutting their teeth on home turf, they kept a conspicuously low profile in the local live circuit. Before their recent album release show (April 20, Will's Pub), the last time I saw them play here was almost two years ago. Rather than build their base on their own streets, they opted to do it
on the road,
nationally and even internationally.
There are many ways of skinning the cat of public attention, and different things work (or not) for different acts. But Sales has managed to conjure
mystique
in the way they've conducted themselves so far. I've had more out-of-town music people – all
prominent insiders
– ask me about them than I've seen in years. Now, the word is unquestionably out because their latest show straight packed the house full of bodies and buzz (as in, the kind of capacity entry line that's one out/one in).
Back to those enquirers, the main question posed was if Sales was truly anything. As in, does the rubber meet the road? Basically, they wanted to know the
street dope
on these guys.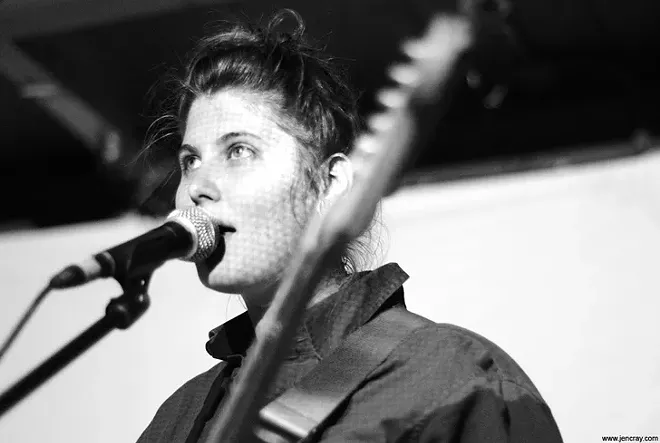 From that
2014 show
, I noted the promise and quality of their music but questioned their
stage worthiness.
In that time, not much has evolved in their live presentation. They're better guitar players now, but that's only a degree of improvement in such a minimal pop schema. Lauren Morgan's singing is good and is both their music's heart and its
most finished dimension.
But, curiously, neither their live sonic presence nor their visual atmosphere is any deeper:
Despite all this, however, their music is
resonating
with people in a way that's truly exciting. And that's testament to their musical distillation. But that economy can toe the line between artfully restrained and just plain basic. On record, they succeed by landing on the former. On stage, the scales tilt the other way. More unfortunate than that is that – with a little
thought and craft
– it doesn't have to be that way.
////////////////////////////////////////////////////////////////////////////////////////////
This Little Underground
is Orlando Weekly's music column providing perspective, live reviews and news on the city's music scene.

Follow Bao on Twitter (@baolehuu)
Email Bao: baolehuu@orlandoweekly.com