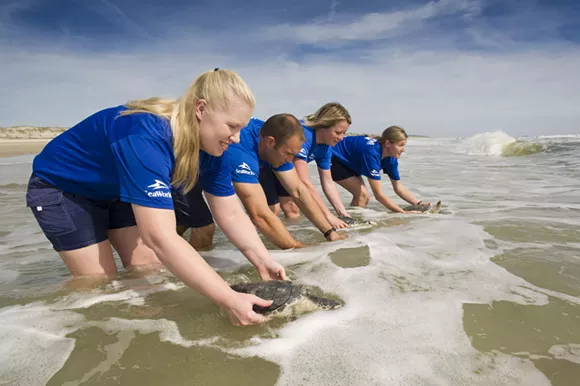 Photo via SeaWorld Orlando
Nine endangered sea turtles made their way back to the waters of Little Talbot Island State Park.
The sea turtles were returned to the warm Florida waters on Wednesday, April 20, after 15 weeks of extensive rehabilitation, according to
SeaWorld Orlando
.
SeaWorld Orlando Animal Rescue Team
rescued and cared for these Kemp's Ridley sea turtles, along with more than 47 other sea turtles this year, and SeaWorld Orlando says the team will continue to care for the remaining sea turtles that need rehabilitation.
Currently, there are 15 Kemp's Ridley sea turtles at SeaWorld that are still in the process of gaining enough strength to be returned to the water in the coming weeks, according to SeaWorld Orlando.