THIS LITTLE UNDERGROUND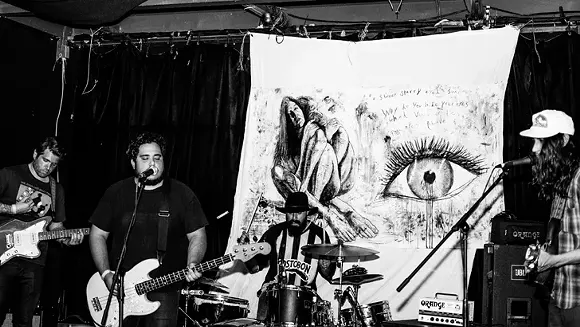 Sierra Reese
Heavy Drag at Will's Pub
With a gorgeously thick modern psych-rock sound kin to acts like the Black Angels and the Warlocks, Miami's
Heavy Drag
(April 24, Will's Pub) stole the night last year at one of the
Grand Collabs
alongside equally excellent brother band the
Grey 8s.
What I learned later from the head of their label (the very legit
Limited Fanfare
in Miami) is that they're what became of
Lil Daggers,
who were themselves a very good band that kicked up a little
buzz and heat
several years back, impressing in Orlando a couple times in
2011
and
2013
. Over that timeframe, the Daggers' psychedelic pulse had shifted from intensity toward heft, so Heavy Drag is a logical progression.
Sierra Reese
Heavy Drag at Will's Pub
But while the Daggers blunted their edges at the end, Heavy Drag has thread a smart needle on their way down into the druggy netherworld, punctuating their narcosis with
power, noise
and
darkness.
Their mammoth plod packs every bit the tonnage that their name promises, but they're also soaring and charged with guitars that peak at
wuthering shoegaze heights.
It's a well-tuned aesthetic and, live, it's gigantic.
Sierra Reese
Howling Midnight at Will's Pub
The bill yielded a new find in
Howling Midnight,
an Orlando guitar-and-drums duo that plays
dug-in, turned-up blues rock.
Unlike the punk and garage underpinnings of the big-name twosomes out there, their strapping sound bears down with more
straight rock power.
However, despite the range this template usually implies, they actually showed more amplitude than you might expect, ably handling Motörhead-esque velocity as well as traditional rock & roll jump. One of the
brawniest two-piece live acts
seen around here in a long time, Howling Midnight could ride just as comfortably with the
Black Keys
as with
Queens of the Stone Age.
And I'm pretty sure hardly anyone realizes it yet.
Sierra Reese
Timothy Eerie at Will's Pub
In complete contrast to the modern angle of Heavy Drag,
Timothy Eerie
is a local band that have already become
strict psych constructionists
in their young career. From the first time I saw them last
October
to the second in
February
, they changed dramatically. After that last show, I noted how
regressive
that turn was, writing that this course could only end in some
white-dudes-with-sitars
scenario. I was half-joking.
But, apparently, even that exaggeration underestimated their psychedelic commitment because, this time, they performed entirely seated, cross-legged on cushions, like – you guessed it – a bunch of
hippies.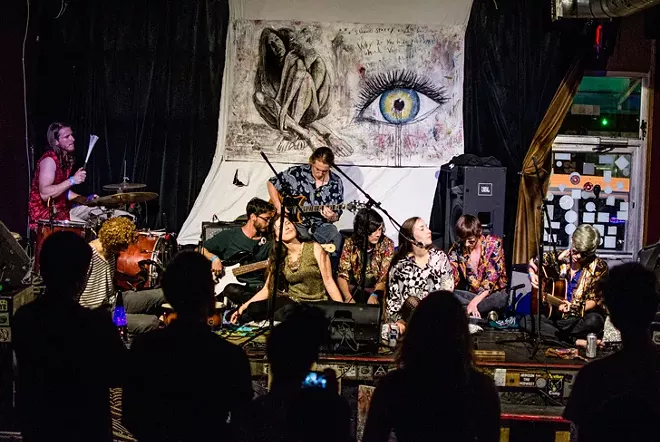 Sierra Reese
Timothy Eerie at Will's Pub
So now this ambitious and ever-developing psych family (engorged to nine members at this show) is in a moon that's shed almost all rock tendency for flutes, exotic percussion, periphery-bending sound effects, bare feet and eye-frying fashion like something straight out of a
1960s commune.
I guess if you're gonna live the gimmick, go all the way, right? And this would qualify as
all the way.
Sierra Reese
Timothy Eerie at Will's Pub
Sierra Reese
Timothy Eerie at Will's Pub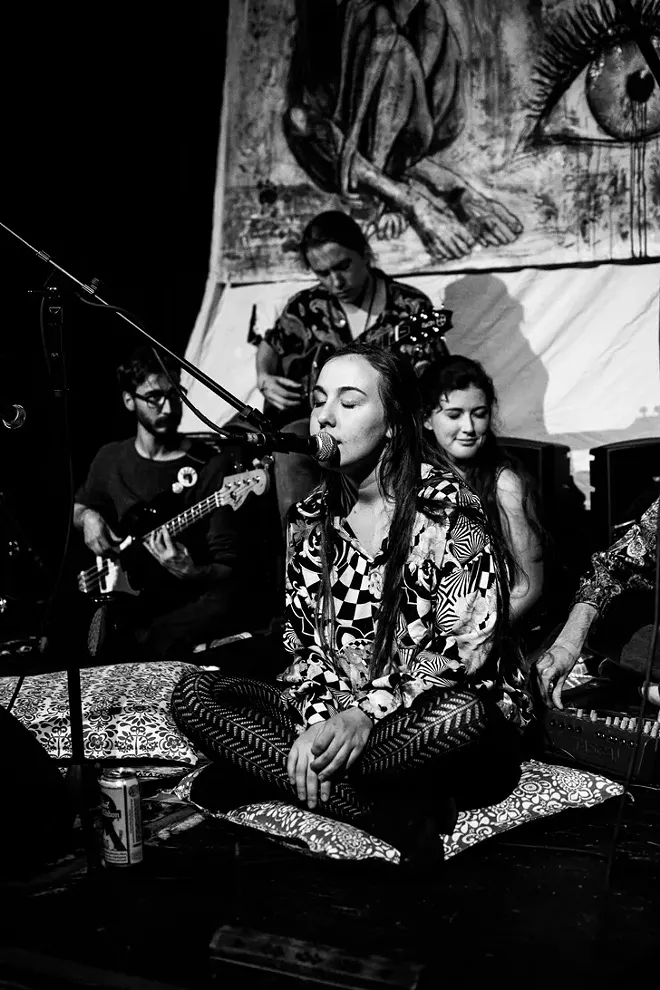 Sierra Reese
Timothy Eerie at Will's Pub
///////////////////////////////////////////////////////////////////////////////////////
This Little Underground
is Orlando Weekly's music column providing perspective, live reviews and news on the city's music scene.

Follow Bao on Twitter (@baolehuu)
Email Bao: baolehuu@orlandoweekly.com