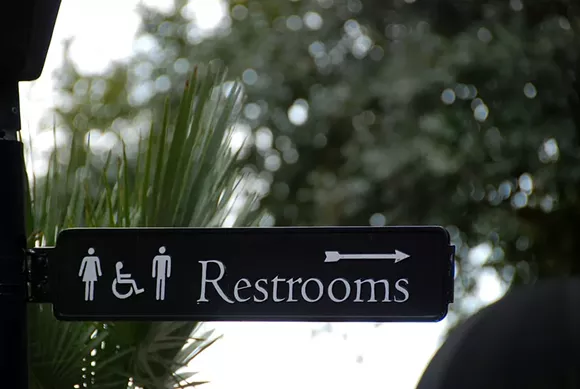 The Marion County School Board voted 4-1 to pass a measure that restricts students' access to school bathrooms based on their birth sex, not gender identity.
The
Ocala Star-Banner
reports the issue arose after a local parent complained his son's right to privacy was violated because he had to share a bathroom with a transgender student who identifies as male. The resolution says "male and female users of Marion County Public Schools' single-sex facilities reasonably expect not to be exposed to persons of the opposite sex while using those facilities."
One board member told the
Star-Banner
that transgender students "should not have the 'choice of the day' in terms of which restroom they will use" because according to her, it's "reverse discrimination."
Before the board's vote Tuesday night, the
American Civil Liberties Union of Florida
said the new rule would "violate Title IX sex discrimination requirements, violate the equal protection clause of the US Constitution, and jeopardize federal funding for the school district," in a letter to the school board.
Gina Duncan, the director of transgender inclusion for Equality Florida, says the Marion County School Board's decision invalidates transgender youth and is built on the premise of hate speech and a misunderstanding of gender identity.
"Some argue allowing transgender people gives pedophiles and sexual deviants the license to attack women in the restrooms, but from studies and talking to law enforcement officers and elected officials, there has been no increase in public safety issues," she says.
The new rule in Marion County Public Schools goes into effect this week.