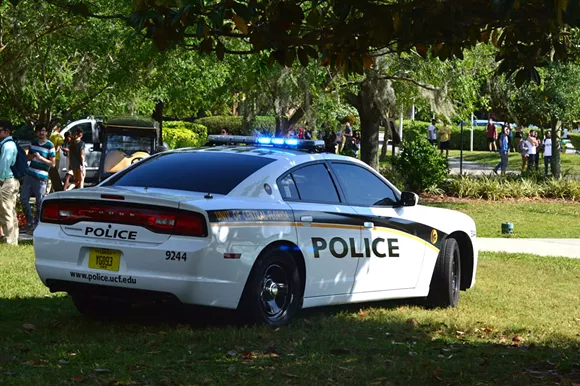 Photo by Monivette Cordeiro
University of Central Florida Police Chief Richard Beary apologized Wednesday for an alert sent out that described a "Middle Eastern gun man/woman" on campus, but defended the department's response to the
situation
.
"These are time-sensitive situations," he says. "I personally apologize if it was insensitive and we upset people, that was never our intent, and I'm big enough to say that. Again we're trying to deal with the lives of young people and get information out, and if we make a mistake along that way because we're acting quickly to save lives, I'm sorry."
UCF Police say they sent out the alert after the GroupMe social media post (right) began to spread online.
Students began calling 911 reporting the post and a person who allegedly matched the characteristics at the John C. Hitt Library.
"We were sitting in the stairwell and this girl came in and she was wearing a full Muslim bur(ka), like a hijab, like, everything," a female 911 caller tells the dispatcher. "She looked really panicky and kind of, like, shaky. Like, as soon as she saw us she went to the corner of the stairwell and started, like, falling to her knees," I'm assuming she was doing something normal. We didn't think anything of it, but then my friend, like, saw a silver and black handheld object. (She's) 80 percent sure it was a gun. It was some sort of like a weapon."
The library was evacuated as officers searched the floors. During the incident an officer's AR-15 rifle accidentally discharged as he was putting it away in his car. The bullet went through the roof, and no one was injured.
UCF spokesperson Courtney Gilmartin says ultimately police did not find a gunwoman or suspicious activity. Some
students
had said the social media posts were actually about a woman who was just praying with her Quran.
The Council of American-Islamic Relations (CAIR) of Florida called on UCF to conduct a complete investigation of the incident.
"While we recognize that a prompt alert is necessary to keep the student body and the rest of the community safe, it is extremely important they investigate how they came up with a 'Middle Eastern origin' as part of the alleged suspect description," CAIR-Florida says in a statement. "This type of irresponsible and insensitive action contributes to the xenophobic rhetoric that, in turn, translates into an unsafe and unhealthy environment for minority students. This defeats the many positive efforts consistently carried out by the student body and CAIR-Florida to fight against Islamophobia, racism, and discrimination."