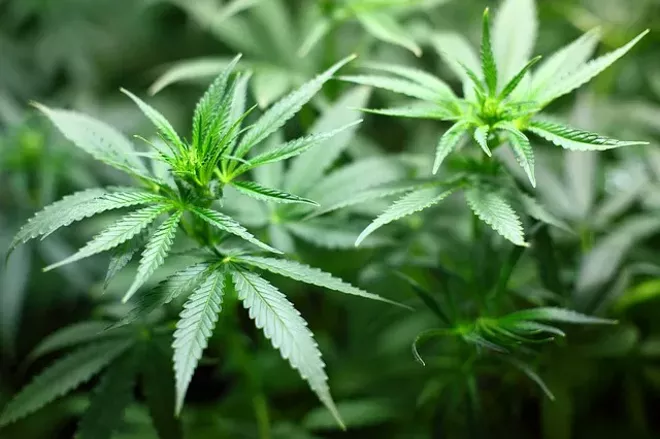 With a 4-3 vote, the Orlando City Council adopted a revised measure that essentially decriminalizes possessing 20 grams or less of marijuana and gives police officers discretion to issue civil citations instead of arresting people.
The new measure doesn't go into effect until later this year on Oct. 1. Commissioners Sam Ings, Tony Ortiz and Jim Gray voted against the measure, while Mayor Buddy Dyer and Commissioners Patty Sheehan, Regina Hill and Robert Stuart voted in favor of the proposal.
"I'm proud that here in Orlando we've been a leader in programs that provide opportunity for at-risk children and youth and second chances for offenders," Dyer says. "This ordinance would continue to build on these efforts. This change will help us protect the futures of young people while allowing our officers to more efficiently use their very limited resources."
The measure makes the first-degree misdemeanor marijuana possession and certain drug paraphernalia a violation of city code. At the council's request, city staff amended the proposal by increasing citation fines and adding a diversion program. The revised version now makes possessing 20 grams or less of marijuana a "Class II" violation, with a $100 fine for the first offense, $200 for the second offense and a mandatory court appearance for the third offense, says assistant city attorney Kyle Shephard.
The proposal also creates a substance abuse diversionary program that allows people who receive citations to do eight hours of community service or eight hours of substance abuse education instead of paying the fine. The revenue collected from fines would support substance abuse education.
Florida law currently penalizes possession of small amounts of pot with one year of jail time, up to a $1,000 fine, probation and a criminal record.
Orlando Police Chief John Mina, whose department supports the measure, has called the initiative a "de-prioritization" of marijuana not decriminalization because possessing marijuana is still illegal under state and federal law. The citation program would not apply to people with multiple arrests for this misdemeanor charge or people caught with small amounts of pot while committing another crime. Mina adds that in 2015, 234 people were arrested for the sole possession of small amounts of pot in Orlando.
At the ordinance's last hearing Commissioner Robert Stuart argued the original $50 fine for the first offense, $100 for the second offense was not enough of a deterrent for people and argued to raise the penalties. On Monday, some commissioners again argued that the fines were akin to a "slap on the wrist."
"We don't have to open this Pandora's box to where children will feel like it's only $50, $100 or whatnot, so it's OK," says Ortiz. "We are a progressive city, but we need to be responsible."
But Yulissa Arce, of Organize Now, says the increased fines could be financially harmful for communities of color who can't afford them due to the income gap and other systemic disparities.
"The price has been increased from $50 to $100, and $100 is detrimental to a lot of families living in the city of Orlando," she says. "A hundred dollars means a bill, it means electricity, it means food on the table for their kids when they're already suffering and working two jobs sometimes."
This post has been updated.