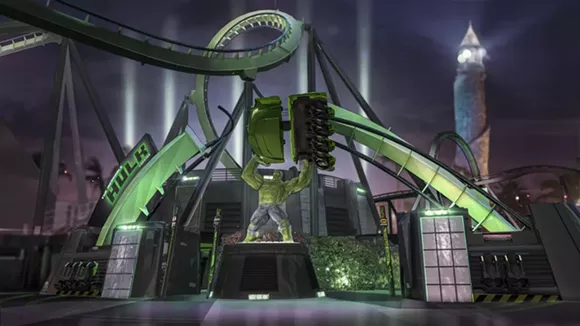 Universal just released a slew of details about The Incredible Hulk Coaster at Islands of Adventure, which is set to re-open this summer.
According to
Universal
, just about everything (except the ride itself) is getting a facelift; from new cars, a new marquee (which will be made with track from the original coaster), to new immersive ways to wait in line.
The new storyline will involve General Thaddeus Ross introducing guests to gamma radiation through a process called "Hulk-a-fication," a process first invented by the man himself, Dr. Bruce Banner.
The new queue will resemble General Ross' state-of-the-art military research compound, with laboratories and plenty of other Hulk-like props.
From Universal:
Inside, General Ross is conducting an array of questionable, bio-radiological experiments. You'll pass by laboratories containing high-tech equipment his team uses to execute his mysterious tests.

Next, you'll arrive at the Gamma core – an intense energy source that sends pulsing waves of radiation upward to fuel General Ross's experiment. Not to worry – a thick pane of glass will protect you from direct exposure to the radioactive core. As you move along, you'll witness the transformation of your predecessors as they undergo the perilous Hulk-a-fication process.

Finally, you'll be rushed to a loading platform, sparking with electric bursts as the Gamma accelerator powers up to blast you with superhuman strength. Prepare for the ride of your life…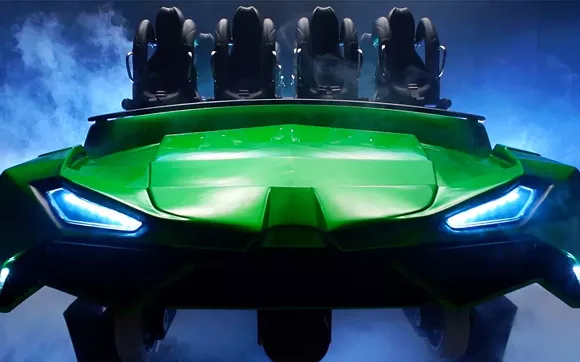 Universal also dropped some details about the new ride vehicles. The new sleek cars will be outfitted with an in-seat audio system that plays an original score by Patrick Stump from Fallout Boy.
Universal also say the cars will exit through a newly revamped launch tunnel with "amazing special effects."