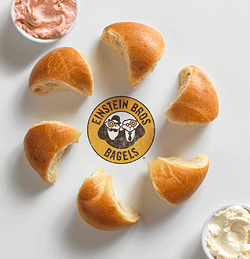 Image courtesy Einstein Bros. Bagels
There's more than one way to slice a bagel – so says Einstein Bros. Bagels.
Their new Twist N' Dip bagel exposes the delicate underbelly of the bagel-eating world: those of us (myself included, TBH) who snub the traditional hemispheric slice-and-schmear method in favor of breaking off bits of bagel and dipping them in the cream cheese a little or a lot at the time (double-dipping encouraged).
When you order the Twist N' Dip, which only comes as a plain bagel, you'll have the option of a single-serving schmear in either plain or strawberry cream cheese, the perfect size for alternative bagel-eating strategies.
Find your nearest Einstein Bros. Bagels
here
, and revel in your naughtiness as you shun ritualistic slicing mores and forge your own boiled-then-baked dough ring path.