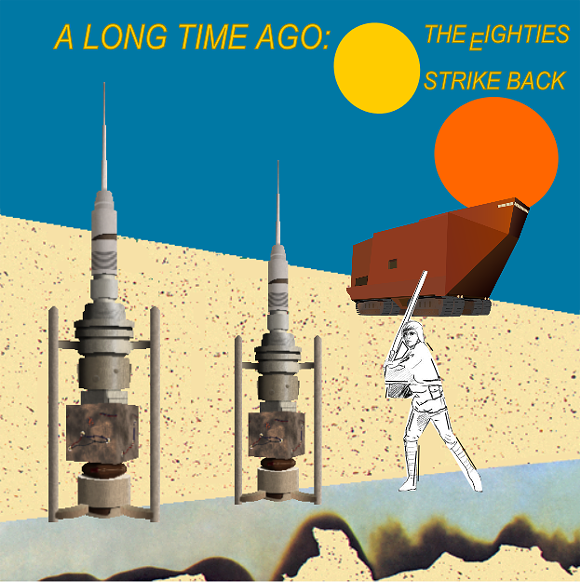 A Long Time Ago: The Eighties Strike Back
starts with a rollerskating R2-D2 (Melina Smart) and a Madonna-esque C-3PO (Lauren Anne Andersson) in a golden Gaultier corset, singing "Video of the Killer Death Star" to the tune of the Buggles' "Video Killed the Radio Star." If the thought of that – or references to NES Power Gloves, Captain EO or the Konami Code – make you chuckle with nostalgic glee, then this is the show for you. A madcap recap of the classic
Star Wars
trilogy (with knowing winks to the modern prequels and sequel) retold via 1980s pop-culture tropes, this revival reimagines Han and Chewie (Michael Knight and Joseph Fabian) as Bill and Ted, Darth Vader (Robert Burrows) as a
Bat out of Hell
-era Meatloaf, and Yoda (Simon MacDonald) as a Kermit the Frog puppet.
A Long Time Ago: The Eighties Strike Back
Penguin Point Productions — Winter Park, FL
7 DATES THROUGH MAY 29, 2016
Venue: Orange
Length: 60 Min
Price: $10 (Disc: FA)
Rating: 7 & Up
Buy tickets here
The transpositions are more costuming sight gags than actual characters, and Simon MacDonald's galactic parody may not be quite as sharp as Charlie Ross's
One Man Star Wars
, but the karaoke soundtrack features some witty musical mashups, such as when Starship's "We Built This City (On Rock and Roll)" is repurposed as "We Built Cloud City (All for Lando)." Only evil Ani and his offspring, the Marty McFly-styled Luke (Chase Ray Livingston) and Molly Ringwald-like Leia (Lauren Culver), can really sing, but the rest of the cast shouts their lines with enthusiastic gusto. The direction by MacDonald and Knight is disappointingly static, with clunky transitions and clumsy re-creations of vintage MTV choreography, and frequent microphone cut-outs undercut the cast during the press preview. But despite its sloppiness, this goofy spoof is simply too good-natured to gripe about, making it a must-see for sci-fi fans who can jettison their cynicism in an escape pod.