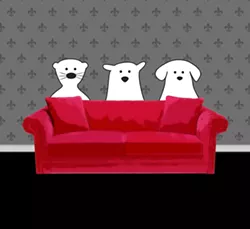 Living Room Theater at the Orlando Fringe
Living Room Theater was started five months ago by Tisse Mallon, Banks Helfrich and Jack Graham. In that time, the trio has performed more than 55 shows in homes across the Central Florida region. Now they've brought their act to the living room of Fringe super-supporters Gail and Al Pergande, with an hour of loosely structured improvisations based around the themes of connection, authenticity and fun.
Living Room Theater — Orlando, FL
13 DATES THROUGH MAY 29, 2016
Venue: 1314 Chichester St.
Length: 70 Min
Price: $11 (Disc: FA)
Rating: 18 & Up
Buy tickets here
Every performance of Living Room Theater is unique, with a couple dozen brief segments drawn from a library of hundreds of scenarios. At the preview, Mallon and Helfrich began as a couple failing to connect through their smartphones, then moved on to skits about fake French accents and the tragedy of throat sloth, while Graham picked out instrumental interludes on his guitar. A playful sense of humor leavens existential philosphizing about the illusory nature of time, and whenever an improv drags on a little too long, tweeting birds signal a shift to the next sequence.
Taken on their own, the individual bits aren't earthshaking. But somehow when you squeeze a couple dozen strangers into a living room, a strange sort of theatrical magic takes hold, making the trip from nearby Loch Haven well worth taking.