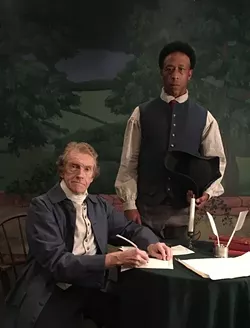 Alexander Hamilton might have all the Broadway buzz today, but as a fellow alumni of the College of William and Mary I've always found Thomas Jefferson to be the more fascinating founding father. Actor-playwright J.D. Sutton (who has been portraying the third President for more than two decades) brings the Declaration of Independence author to life at Fringe with all his foibles and failings, as he addresses an abolitionist society accompanied by his manservant Jupiter, movingly portrayed by Jim Braswell.
Thomas Jefferson: My Master, My Slave, My Friend
J.D. Sutton - Orlando, FL
4 DATES THROUGH MAY 29, 2016
Venue: Yellow | Length: 60 Min
Price: $11 (Discount FA | FV | MIL | STU | SR)
Rating: 7 & Up
Buy tickets
Under Laurel Clark's sensitive direction, Sutton's deeply researched script lays bare the irony of Jefferson's inspiring intellectual arguments for universal emancipation, juxtaposed against his willful blindness toward the abuses suffered by his purportedly privileged slaves. Braswell's Jupiter, a deep-thinking soul forced to sublimate his inner life in a white-dominated society, anticipates what's today called code-switching as he covertly expresses incredulity at Jefferson's hypocrisy through subtle sidelong glances and slumping shoulders.
This questions this play raises – what is the meaning of "all men are created equal," and can different races really live in harmony – continue to resonate today, and these fine performance make the philosophizing deeply personal. Fringe 2016 is still very young, but we already have a strong contender for the best drama of the festival.