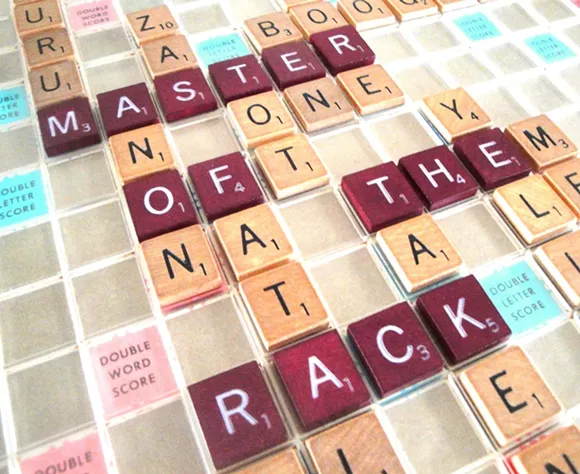 'Master of the Rack' at Orlando Fringe
Chess might be, as playwright Ayal Wolf claims, where the "crazies" are, but Scrabble is a close second in inspiring a competitive sprit that borders on insanity. Grumpy tile maven Ted (John Moughan) runs a professional Scrabble players' association out of a dilapidated building that's in danger of being dominated by Pomeroy (Mark Davids), the bald board-game equivalent of a Bond villain whose plush players' club will soon be the only game in town. When Samuel (David McElroy) – a former Scrabble savant who was banned from competition in a cheating scandal – arrives on the scene, he becomes the struggling club's potential savior, facing off against Pomeroy in a high-stakes "three-off" that will determine both clubs' fates.
Master of the Rack
The Yellow Spot Project - Winter Springs, FL
6 DATES THROUGH MAY 29, 2016
Venue: Yellow
Length: 60 Min
Price: $10 (Disc: FA | FV | STU | SR)
Rating: 13 & Up – Some Adult Content
Buy Tickets
Anyone who has seen the 2004 documentary
Word Wars
knows the drama inherent in a world-class Scrabble match, but Wolf's inconsistently amusing script fails to fully mine the potential tension, not even introducing the antagonist until more than halfway through its running time. A few moments explaining the intricacies of Scrabble strategies (like opening lanes and stacking) with illustrative videos are illuminating, but the pace is ultimately dragged down by performances whose quality ranges from community theater to basic cable.
Director Garry Norris does what he can to enliven the sitcom-like schtick, but his blocking on the wide, shallow Yellow Venue stage leaves the actors standing stiffly in straight lines for long stretches. If you have assiduously memorized all the legal two-letter combinations from AA to ZA, you'll undoubtedly enjoy recognizing the references; others may want to opt for a nice game of Parcheesi instead.