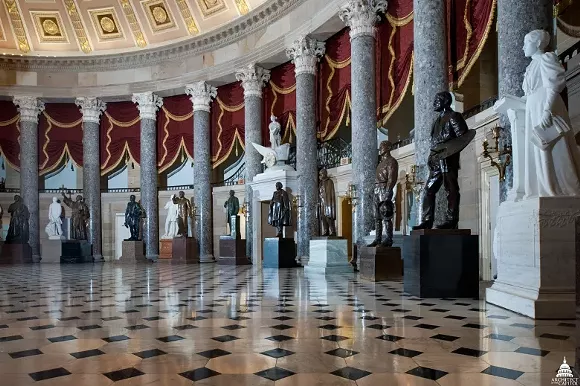 As Confederate Gen. Edmund Kirby Smith's days of representing Florida come to an end, state officials want you to
pick
a new Florida icon to grace the National Statuary Hall at the U.S. Capitol.
The
Florida Department of State
says it's looking for deceased Floridians who made significant contributions to the state or country's history, economy, culture, arts, education, infrastructure, environment, civil service or military.
The person has to be a Florida native or a Florida resident, and have been dead for the last 10 years or more. No fictional characters or animals will be allowed, according to the rules (Sorry, #FloridaMan).
Smith is being removed after representing Florida for almost a century. Each state is allowed two statues in the hall, and John Gorrie, considered the father of air conditioning and refrigeration, will remain one of Florida's statues. Some favorites to replace Smith are Walt Disney, Zora Neale Hurston,
Harry T. Moore
, Jim Morrison and Henry Flagler.
U.S. Sen. Marco Rubio, who has recently acquired ample spare time and Twitter fingers, suggested Florida replace Smith with Gainesville's favorite Floridian, former Florida Gators quarterback Tim Tebow.
Online voting for your favorite dead Floridian ends June 10. State officials will also take recommendations by mail. The recommendations will go to a panel from the state's Division of Historical Resources, who will recommend three people for the 2017 Florida Legislature to consider.
Vote in the online survey
here
.