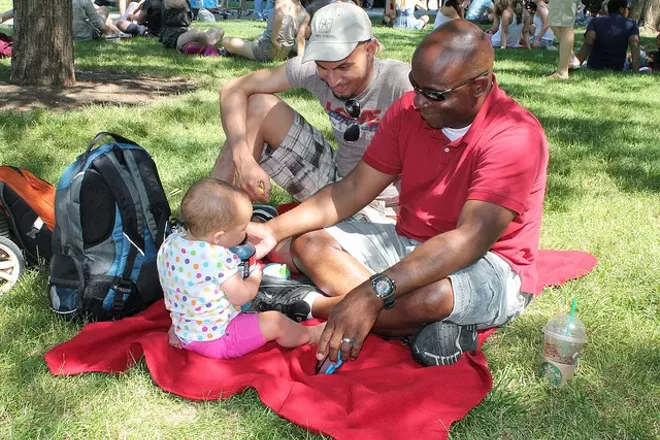 Florida health officials have started listing both spouses on birth certificates of children born into same-sex marriages and hope to have new birth certificates adding the option of "parent" —- in addition to "mother" and "father" —- by mid-July, according to court documents filed this week.
Saying the birth-certificate issue is now moot, the state asked a federal judge to dismiss a lawsuit filed nine months ago by two same-sex couples and an advocacy group, Equality Florida Institute. But the plaintiffs say they aren't dropping the legal challenge.
"It is some relief that married same-sex couples are finally receiving birth certificates that include both parents, though they are inaccurately listed as 'mother' and 'father,' " Equality Florida Policy and Outreach Coordinator Holly Willard said in a prepared statement this week. "However, since the department's long overdue directive does not resolve all legal issues for same-sex couples and their families, our birth certificate lawsuit is ongoing to ensure that all parents are treated equally and appropriately under the law."
Department of Health officials had contended they lacked the authority to change the forms without lawmakers' action, which led to only birth mothers —- and not their spouses —- being listed on the documents. But the Republican-dominated Legislature, which met from January until mid-March, failed to approve changes to the law to recognize that same-sex marriage is legal in Florida.
In Monday's court filing, health officials said U.S. District Judge Robert Hinkle's March 31 final order in a lawsuit that overturned the state's gay-marriage ban made it possible for the forms to be changed. Hinkle's order came more than a year after same-sex marriages became legal in Florida and long after the U.S. Supreme Court struck down state bans on gay marriage last June.
In his harshly worded March order, Hinkle chastised state officials for their reluctance in acknowledging that the Florida ban had been overturned in 2015, and "for a history of resistance" in a variety of areas linked to gay marriage —- including in the state's handling of birth certificates for children of same-sex couples.
Department of Health chief litigation counsel Jay Patrick Reynolds wrote in a 13-page filing Monday that Hinkle's order provided clarification that a reference in state law to "husband" cannot prevent equal treatment of a same-sex spouse. He quoted from part of Hinkle's order that said "in circumstances in which the surgeon general lists on the birth certificate an opposite-sex spouse who is not the biological parent, the surgeon general must list a same-sex spouse who is not a biological parent."
Last month, the health department initiated a rule-making process "to modify the vital statistics forms to allow the designation of mother, father, or parent on the birth record," Reynolds wrote. The new forms could be available in July, according to court documents.
State health officials also have "directed agency staff to list same-sex spouses on birth records using the existing birth record form," Reynolds wrote.
And the health department has instructed hospitals, birthing centers, midwives and others in Florida filing birth records "to record the name of both same-sex spouses on the birth record using the existing form," the court documents say. Same-sex couples can also wait for the new form.
But, according to lawyers for the plaintiffs, the revised birth certificates won't be an option for same-sex couples whose children were born before Jan. 6, 2015, when same-sex marriages were allowed to begin in Florida. Hinkle ruled months earlier that the same-sex marriage ban was unconstitutional, and a stay of his ruling expired Jan. 6, 2015.
Some couples who want to have new birth certificates identifying them as "parent" instead of "mother" or "father" will have to pay extra, said Chris Stoll, senior staff attorney at the National Center for Lesbian Rights, which represents the plaintiffs.
"There are many states around the country where all of these issues, such as birth certificates, have been resolved very quickly, without any litigation, and life has gone on. Unfortunately, we have a small number of states where officials continue to drag their feet on every issue that they possibly can," Stoll said in a telephone interview Thursday.