A satire of 1950s B-movies,
Women Behind Bars
mostly lives up to the low expectations that one brings to such a raucous, raunchy affair. In fact, the Fringe patrons I saw it with repeatedly cackled with the enthusiasm of a cock-fight audience. Though these types of productions always have a welcome place at Fringe, this one felt both too uneven and, surprisingly, too lame for its "mature audiences only!" label.
Women Behind Bars
Breakthrough Theatre of Winter Park – Winter Park, Florida
7 REMAINING DATES THROUGH MAY 29, 2016
Venue: Red
Length: 60 Min
Price: $11
Rating: 18 & Up –Mature Themes, Adult Language, Violence, Sexuality
Buy Tickets
A cast of 10 brings director Wade Hair's production to loud life, and I do mean loud thanks to the endless yelling and blowing of prison whistles intended to bring the female inmates into line. Speaking of female inmates, the play mixes actors' genders to nice comical effect, with three of the seven jailed women played by women and the rest by men. In fact, it's BeeJay Aubertin-Clinton as Ada and Nate Elliott as Guadalupe who are the funniest, though the latter is underused. And among the actresses, Allie Novell shines as Mary-Eleanor, an innocent prison newbie whose plight is the play's main focus.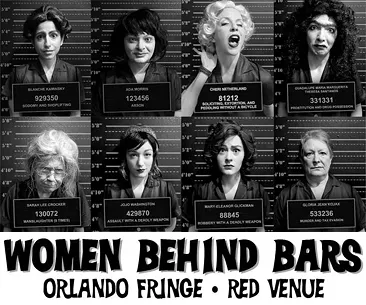 Women Behind Bars
was written in 1975 by Tom Eyen as a campy off-Broadway spoof, and the play itself mostly hits the mark. But since it's not exactly Tony Award-winning material, it takes comedically masterful performances to infuse it with the requisite energy. As the sadistic matron, Bob Brandenburg certainly has the energy, but his scenery-chewing grows tiresome. The rest of the performances are also a bit rough around the edges, though Dina Najjar (who thinks she's Blanche DuBois), Tracey Jane Smith (who imagines herself Marilyn Monroe) and Kody Grassett (as all the male characters) mostly understand their roles and deliver the desired sexiness.
I end with what might be a shallow observation but, in the Fringe world, is important. There is no nudity. If the actors felt uncomfortable with baring all, that's understandable, but if you advertise nakedness and don't deliver, that's a crime on par with the felonies that sent the play's characters to the Greenwich Village Women's House of Detention.