THIS LITTLE UNDERGROUND
Empire Cinema at Will's Pub
A recent homegrown lineup (May 19, Will's Pub) was topped by noted Orlando indie names
Pathos, Pathos
and
Reverist,
who rocked my latest guest showcase at last month's
Florida Music Festival.
But way down at the bottom of the bill was a nice find in
Empire Cinema,
who are apparently
Tampa as fuck
in their New Granada and Microgroove T-shirts. As post-punk revisionists in the bloodline of
Interpol,
their power comes from tall rock that's all stiff drive and their mien from throbbing atmosphere. As faithful as they are to that dire aesthetic, they pack a little more thrill than many of their contemporaries. While others are content to haunt the room with gloom and theater, Empire Cinema often flex their capacity for
throttle and gust,
making them one of the more electrifying acts of their kind.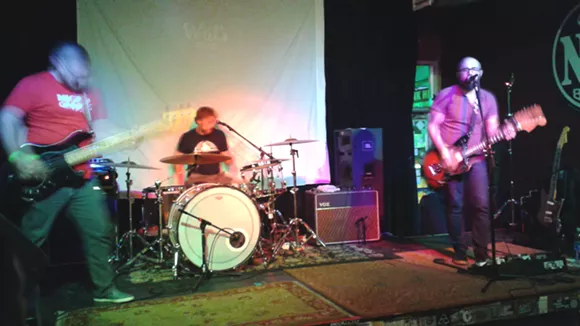 Empire Cinema at Will's Pub
Also playing were the
Knick-Knacks
from nearby Melbourne, who could quickly be better with some tightening in both idea and playing. They play a lively blend of garage and '90s alt-rock even though some of their more nuanced undercurrents like chiming guitars and cooing singing were some of their most remarkable. If all those style goalposts are making you a little dizzy then you're seeing my point about focus. But they got spirit and some solid blocks on which to build.
///////////////////////////////////////////////////////////////////////////////////////
This Little Underground
is Orlando Weekly's music column providing perspective, live reviews and news on the city's music scene.

Follow Bao on Twitter (@baolehuu)
Email Bao: baolehuu@orlandoweekly.com